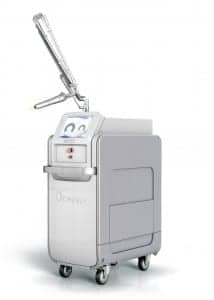 There's a new picosecond laser on the block.
Syneron Medical Ltd's PicoWay™ picosecond device made its international debut at the 23rd European Academy of Dermatology and Venereology (EADV) Congress in Amsterdam, The Netherlands, October 8-12, 2014.
PicoWay is a dual-wavelength device, with 532-nm and 1064-nm wavelengths. It utilizes proprietary PicoWay technology to generate picosecond pulses for the treatment of pigmented lesions and tattoos, including recalcitrant tattoos.
The staged launch begins in the international market during October 2014 and will continue in the United States in the first half of 2015.
The PicoWay technology is integrated into the Candela™ platform, which ensures superior performance and low cost of ownership.
PicoWay is CE marked and pending US Food and Drug Administration (FDA) clearance. Syneron anticipates that it will receive FDA clearance for PicoWay by the end of 2014.
"With the shortest pulse on the market, PicoWay requires lower fluences and yields faster clinical results than traditional Q-switched lasers," says Tina Alster, MD, a clinical professor of dermatology at Georgetown University Hospital in Washington, DC, and one of the investigators in the multicenter clinical trials of the new device. "The Nd:YAG wavelength can safely treat a wider variety of skin types, and, along with the reduced fluence, minimizes thermal injury to the skin. I believe that the PicoWay will further revolutionize tattoo removal."
If approved, PicoWay will join CynoSure's PicoSure laser, which is FDA cleared for tattoo removal and acne scar treatment.