By Denise Mann, PSP Chief Editor
There's a list and then there's an "A" list, and Angelina Jolie is definitely on the latter.
The mom-of-six has always been an ahead-of-her-time trendsetter, and this is not just because of who she wears or dates, or how unbelievably gorgeous she is. There is nothing shallow about Brad Pitt's partner. Jolie, 37, put international adoption and human rights on the map, and is now poised to do the same for prophylactic mastectomy.
And by and large, this is a very good thing for women and may well save many, many lives.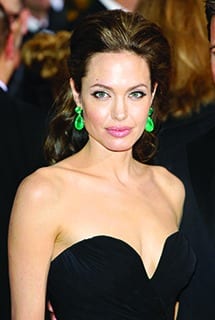 Photo: Joe Seer / Shutterstock.com
Jolie is not the first women or even the first celebrity to make this brazen choice. Actresses Christina Applegate, talk show host/reality TV veteran Sharon Osbourne, E! News personality Giuliana Rancic, and comedian Wanda Sykes all underwent double mastectomy to prevent breast cancer in one or both breasts due to their high risk.
She got tested because her mother, actress Marcheline Bertrand, died from ovarian cancer in 2007 at age 56. Jolie tested positive for the BRCA1 gene, and her doctor said she had an 87% chance of getting breast cancer and a 50% risk of developing ovarian cancer in her lifetime. (Media reports suggest that a prophylactic oophorectomy is also in the cards for Jolie.)
Jolie came out in an op-ed piece in The New York Times on May 14, 2013. Paparazzi follow the Jolie-Pitt clan everywhere, yet she was able to undergo the surgery in total secrecy. (This is amazing in its own right.) The minute word got out, geneticists, oncologists, and plastic surgeons' phones started lighting up. Women wanted to know if they should get tested for the breast cancer (BRCA) genes and what their options were if the test results were positive.
It's already been dubbed the "Angelina Jolie effect."
The actress is no stranger to controversy. (Remember that bit about wearing her then-husband Billy Bob Thornton's blood around her neck?) Her latest actions are also inspiring some criticism. Many public health advocates are lauding her decision to come forward and shed light on breast cancer prevention options, but others are quick to point out that not all women have the options that Jolie does, and worry that "hyperawareness" may cause more harm than benefit. These surgeries do confer risks and take time to complete. Not every woman can take off the needed time from work or life
Part of this backlash is due to costs—something Jolie doesn't have to worry about. The good news is that more insurance companies are offering to pay for genetic testing and preventive surgery for women at high risk of breast cancer. In fact, the Affordable Care Act now requires insurance companies to pay for gene testing among high-risk patients. They can run as high as $3,000.
Jolie acknowledges this obstacle in her op-ed: "It has got to be a priority to ensure that more women can access gene testing and lifesaving preventive treatment, whatever their means and background, wherever they live."
Her decision has also sparked talk of breast reconstruction techniques, many of which have evolved in recent years yet are dramatically underutilized. Seven out of 10 women eligible for breast reconstruction following (non-prophylactic) cancer surgery are not informed of their reconstructive choices.
Perhaps, Jolie will also put a face on this cause—one which is championed by the American Society of Plastic Surgeons and The Plastic Surgery Foundation with their 2-year breast reconstruction awareness campaign and BRA Day USA initiatives.
Clearly not all women need to be tested for BRCA genes and not all will require a prophylactic mastectomy, but Jolie's choice will make it easier for those who do—especially when it comes to navigating the emotional part of the process. Breasts are seen as a symbol of our femininity, and removing the breasts—especially when they are healthy—can be difficult for women.
But Jolie's actions flout this convention. Instead, she feels "empowered that I made a strong choice that in no way diminishes my femininity."
Those are powerful words from a powerful woman that will surely resonate with many who are faced with the same choices as Jolie.