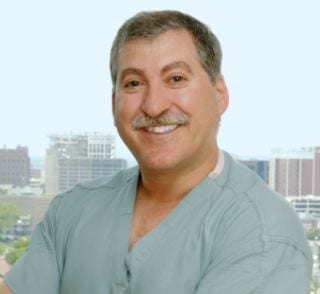 A drive for excellence is what motivates Michael Beckenstein, MD, FACS, every day. And that ambition is also the driving force for his entire staff, the practice itself and certainly for Beckenstein both professionally and personally. The Birmingham, Ala-based board-certified plastic surgeon says he's always striving for the best for himself, his staff, and his entire practice, because ultimately that means the very best care for his patients.
"I want for myself and my practice to be the best we can be and to exceed the high standards I set," Beckenstein says. "The bar gets raised every year after we complete our internal evaluations. We constantly survey our patients and referral sources about our performance so we can gauge our performance and progress. This includes surgical results, patient care, and interactions with administrative, clinical and business associates," he adds.
Originally from New York's Long Island and educated up and down the east coast, Beckenstein established his plastic surgery practice a dozen years ago when he settled in Birmingham. He also serves the communities of Montgomery, Tuscaloosa, Decatur, Huntsville, and areas from the neighboring states. Beckenstein is proud to say he personally chose the nurses, assistants, and administrators, creating a core group of associates—each with at least ten years of plastic surgery experience—to provide the high level of compassionate care for his patients.
"My staff and I strive for excellence by applying our knowledge, expertise, experience, skills, and judgment to the field of plastic surgery," quotes his Web site (msbmd.com). "We are committed to rendering compassionate and competent care in the pursuit of the restoration of aesthetics, form, function, and spirit… I assure you that my staff and I are highly committed, and will expend all of our energies to achieve these goals for you!" it continues.
Beckenstein doesn't demand excellence and high standards just from those around him; he himself lives by example. "By improving on my personal life, including getting physically fit, losing 30 pounds, and building a healthier body through the workout routine P90X, it demonstrates my commitment to personal improvement. I read books on self-improvement and personal interactions to help improve my interactions with my patients and staff. I am also getting an MBA to better my business acumen," he explains.
The practice environment has always been important to him. For example, he personally designed his new state-of-the-art office, which, he explains, "provides you with a warm, relaxed and comfortable environment facilitating a pleasant experience for you."
Beckenstein takes a great deal of pride in his patient care, which begins with what he refers to as, "efficient, innovative scheduling and management." He says that creates minimal waiting times for patients to see him and his staff. The comprehensive consultation "is specifically designed to maximize patient education on the procedures in which they expressed interest," he adds.
He calls an initial consultation at his office a "multimedia experience," and he follows that up with an extensive initial consultation. Beckenstein makes certain all of his patients have a thorough understanding of the procedures, realistic expectations, and receive answers to all questions. After a thorough clinical exam, Beckenstein's associates complete the final details of the consultation.
Though he's been given several awards throughout his years in practice, Beckenstein believes that it is his attention to and care for his patients that earned him his most coveted award, the Patient Choice Award from the renowned Castle Connolly group for the past 4 years. Many awards are peer-to-peer nominated and Beckenstein has racked up plenty of them, but for this particular accolade his patients chose him repeatedly. "The best one for me is the Patients Choice Award. This is because it is from the patients who actually experience my practice. Some of these awards come from peers. This evolves into friends nominating friends or partners to make the practices look good. They may not be the best doctors, but patients rating doctors is a true indicator of how good a doctor is."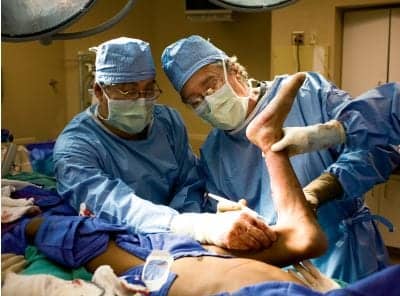 Beckenstein (left) at work in the OR.
His work earned him plenty of other top awards from various and varied groups through the years. These awards include the prestigious Best of Birmingham Plastic Surgery in 2008, 2009, and last year; the BMW Ultimate Drive Local Hero Award in 2008; plus being named to the list of Leading Provider Plastic Surgeons of the United States by Goldline Research in 2009; and the list of America's Top Surgeons by the Consumer Research Council in 2005 and 2009.
Another special award for Beckenstein was when he was named the Lifesaver Recipient for the American Cancer Society's Life Inspiration Award in 2006. A major portion of his practice deals with breast cancer patients—he was the first plastic surgeon to win this award five years ago.
"The American Cancer Society gave me the award based on letters sent to them by my patients. The premise on which I built my breast surgery center and that level of care we render is what prompted them to nominate me," he adds. He is also known for assisting his cancer patients with non-medical-related issues. He has gotten rent and mortgage payments delayed and utilities turned back on after personal calls to landlords, mortgage companies, and utility companies.
Beckenstein created the comprehensive cancer center with individuals and organizations in the community about eight years ago. Hundreds of women to date have been helped by this virtual center that connects breast cancer patients with information, referrals, and every type of medical and support services in a "small town family-type setting."
"What I offer is what makes this center unique: a dedicated counselor who specializes in my cancer patients; spiritual guidance in the form of clergy and other breast cancer survivors; physical therapists who have come into the operating room to see what I do and now appreciate the anatomy and what they need to address; a spa to nurture our patients, which is owned and operated by a breast cancer survivor. I also have an internal support group of my patients that makes this unique. It is not a generic organizational group, but one coordinated by us with facilities that mesh with my philosophy of care. We have specialized stores to buy wigs, bras, and more, nutritionists, and soon there will be personal training for my patients, as well. All that plus doctors who I work well with; who I know are top in their respective fields."
Besides the breast reconstruction procedures he performs, Beckenstein says the busiest part of his practice is probably the other breast procedures—more than 300 breast reductions, lifts, and augmentations; along with the approximately 150 breast reconstructions he performs each year. With some 100 body contouring cases and the other cosmetic and reconstructive procedures, that amounts to around 600 surgeries a year.
Beckenstein's practice is built on a strong foundation of training. This included five years of general surgery training at Saint Barnabas Medical Center in Livingston, New Jersey where he was awarded the Herbert Schulte Award for clinical excellence, then a two-year plastic surgery training at Case Western University in Cleveland, Ohio. After that three-and-a half years of fellowship training commenced, beginning with a year with Carl Hartrampf Jr, MD, in Atlanta. Hartrampf developed the TRAM flap, a procedure that Beckenstein says revolutionizing breast reconstruction and other reconstructive techniques as well.
Beckenstein's second fellowship was with Scott Spear, MD at Georgetown University Medical Center in Washington DC. Beckenstein refers to Spear as "a guru of breast surgery and a worldrenowned expert on breast reconstruction." The final fellowship was in Birmingham with world-renowned breast and aesthetic surgeons.
Beckenstein continues to learn and improve. Currently, he is writing a paper that he says, will be published in a reputable journal on the topic of different incision schemes for breast surgery that are yielding great results, he notes This will be in addition to the more than 30 publications he has to his credit.
Michael Beckenstein, MD, FACS
800 Saint Vincent's Dr, Suite 610
Birmingham, AL 35205
(205) 933-9308
www.msbmd.com
"The foundation of training I have, combined with my experience and volume of surgery I perform, coupled with the high level of care we provide are the components of my success," he says.
Being deemed a "best surgeon" is a distinction Beckenstein believes comes from his patients. And those patients seeking out his expertise come from around the corner, across the country and around the world—from faraway places like China, England, India, Ireland, Germany, Korea, Lebanon, and the United Arab Emirates. Beckenstein knows that the high level of care and excellent results he provides will only yield more and more satisfied patients in years to come.
---
Amy Di Leo is a contributing writer for PSP. She can be reached at [email protected]