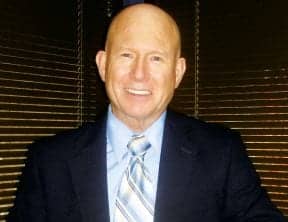 In 1982, Reginald R. Sherrill, MD, had just finished his plastic surgery training at Wright State University in Dayton, Ohio, and begun the search for a big city to settle down and start a solo-practitioner plastic surgery practice.
Mapping out his potential locations, Sherrill investigated urban hospitals from the Midwest to the Southeast with a stop in Chattanooga, Tenn, followed by Atlanta. In-between those two cities were some friends and a booming carpet mill town, Dalton, Ga, which boasted a newly built hospital with no plastic surgeons—and a population of just 75,000 residents in the surrounding area.
Despite warnings that hospital physicians had little interest in bringing a plastic surgeon to Dalton, Sherrill saw an opportunity to serve the needs of a growing community and its emergency department (ED)—often filled with mill worker accident victims that required his surgical expertise. Soon after that first visit, Sherrill established Dalton Plastic Surgery, the town's first plastic surgery practice.
That was 29 years ago. Today, Dalton Plastic Surgery and Dermatology is a successful cosmetic and plastic surgery practice with its own surgery center and on-site medical spa. Recently, Mary Beth Cole, MD, a board-certified dermatologist who grew up in Chatsworth, Ga, a community 15 miles from Dalton, joined the practice in August 2011 as Sherrill's first-ever associate, expanding the practice's services to the community.
In those 29 years, Sherrill established himself as a top physician by serving his adopted hometown with his aesthetic and reconstructive surgery skills, as well as his outreach to the community.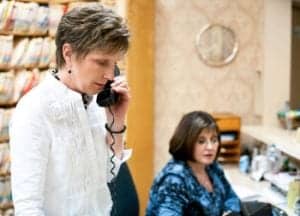 Marsha Thomason (left), receptionist/insurance, and Janice Helton, LPN (right), receptionist/insurance
BEFORE DALTON
When Sherrill entered the Loma Linda Medical School of Medicine, in Loma Linda, Calif, his original intention was to become a hand surgeon.
"My mother had arthritis, and back in the 1960s I had seen a display on joint replacement of the hand," he says. "That stuck with me, and I thought maybe I could help my mom."
As Sherrill delved deeper into the hand, its anatomy, and performing dissections, he realized that many of his lectures were taught by plastic surgeons. That realization sparked his interest in plastic surgeons and orthopedics. Ultimately, Sherrill decided to expand his focus to include plastic surgery.
After 3 years of general surgery at Loma Linda University, Sherrill spent another 2 years at Wright State University in Dayton, Ohio, where he received his plastic surgery training and subsequent board certification from the American Society of Plastic Surgeons in 1983.
GETTING SETTLED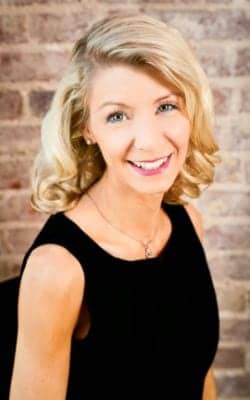 Mary Beth Cole, MD, Sherill's dermatology associate
Choosing to establish his practice in Dalton had advantages and disadvantages for Sherrill. On the positive side, Sherrill knew he was the only plastic surgeon in town. On the challenging side, Dalton was (and remains) a relatively small town of 75,000, including the surrounding area. Would the town's limited population and carpet mill workforce support a new plastic surgeon in the early 1980s?
At first, the answer appeared to be no. Sherrill explains, "When I first came to Dalton, they had done a survey of the medical staff and asked them what kind of doctors they thought were needed. There were about 12 who said that maybe they could use a plastic surgeon. Everyone else said they didn't need a plastic surgeon."
The physician survey seemed like a nonstarter for establishing a plastic surgery practice, but then Sherrill soon received a call from an ED physician, who asked Sherrill not to scratch Dalton off his list.
"He told me that he understood what the hospital told me," Sherrill says, "but said that there were a lot of cases that were either getting sent out or didn't get done because there wasn't anyone to take care of it."
Based on that conversation and other lifestyle considerations, Sherrill and his then wife ultimately chose Dalton. It was the right decision. Carpet mill and meat-processing factory accidents led to a great need for Sherrill's surgical training, especially with amputations.
"I probably took care of 125 fingertip amputations my first year," Sherrill recalls. "It wasn't exciting, but it helped pay the bills. Most of these cases were from the carpet industry, but we also had meat-packing plants."
As an outsider settling into a tight medical community with one hospital—Hamilton Medical Center—Sherrill knew that he also had to build relationships by going out of his way to help the hospital's ED.
Prior to Sherrill, a group of three orthopedists covered the ED, but they preferred more predictable hours and were less territorial. Seeing an opportunity to fill a need, Sherrill told them that he would be there for them whenever they called. Thus, the ED became Sherrill's top priority during his practice's early years.
"If I was in my clinic and the emergency room called, I'd tell my staff to reschedule people and that I'm going to the emergency room," he recalls. "So, I'd go over there as quickly as I could and try to deal with it."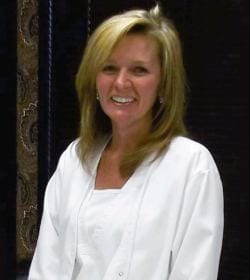 Tammy Tullos, spa aesthetician
That commitment to the Dalton's ED paid off for Sherrill, allowing him to build both professional relationships and a growing practice in his new community. At the same time, he also began growing his cosmetic practice and reputation with patients and physicians.
When Sherrill began practicing in Dalton, he estimates that 50% of his practice was hand surgery and ED related, and 50% aesthetic and elective. Today, due to the growth of his private practice, he performs 75% cosmetic and 25% reconstructive surgery at his state-accredited surgery center.
Some are minor procedures, such as removing moles and suspected skin cancers. Others are larger aesthetic staples, such as breast augmentation, facelifts, blepharoplasties, and tummy tucks. Though he recently created a boutique medical spa inside his facility with a full-time aesthetician, Sherrill insists on doing his own injectables.
"My own personal opinion is that when we have other people doing injectables, it gives the impression that anyone can do it. While it is possible for anyone to do it with training, for the amount of money people are paying, I think these people deserve my extra attention and experience."
Sherrill still sounds excited about his practice, even after 29 years. He operates 5 days per week. His mornings are dedicated to the larger cases with anesthetists in attendance. His office hours span until five in the evening, "or until we get finished," he says.
Sherrill's patient commitment and practice philosophy harkens back to his original medical training at Loma Linda University Medical School.
"At Loma Linda University, its motto is, 'To Make Man Whole,' " he says. "That's still part of my motto, too—trying to get people back to the way they were, whether that's taking a skin cancer off of their face, or reconstructing their breasts or any other part of their body."
DeAun Floyd, RN
Perhaps surprisingly, Sherrill reports that his client base is quite diverse and not just from upper-class residents and affluent suburban Atlanta and Chattanooga housewives.
He reports that he often sees clients who arrive in much older cars, yet still have the cash or financing to pay for cosmetic procedures. "It's all a matter of the patient's priorities," he says. "In fact, we don't cater to the rich and famous at all. It's really a wide group of people from all economic levels."
Sherrill also feels great satisfaction when his patients and their families tell him how much his work has changed their lives. He often performs cosmetic work for a widow or a recent divorcee who has had some sort of emotional setback.
For example, he mentions a client who had been reclusive after her mastectomy. Her daughter reported that after Sherrill's breast reconstruction, her mother completely changed her outlook on life. "It gave her a new confidence," Sherrill says, "and has certainly helped her attitude." She now has a big smile when she's seen in public.
FITTING IN THE MEDICAL SPA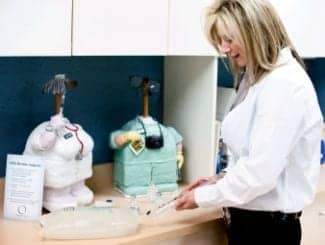 Linda Mathis, ORT, surgical assistant
When Sherrill opened his 4,500-square-foot facility, he hadn't planned on including any type of medical spa due to space limitations. There were already several other medical spas in town at the time, and Sherrill didn't see a need to compete for that business until one spa closed.
"They'd been open for 10 years," Sherrill recalls, "and as with so many of these, the first person that starts doing hair removal does well at first. Then everyone else starts buying hair-removal equipment, and then you have five hair-removal spas, and suddenly there's a lot of competition without enough patients."
However, before the spa closed, its lead aesthetician approached Sherrill about moving her practice into Sherrill's facility.
His initial reaction was that there wasn't enough space, but as the two toured the practice together, they noticed an extra office space that was used fairly infrequently. It was small, but the aesthetician thought she could make it work.
The revisions were not as extensive as they might have been with a full spa in a larger facility, Sherrill says. He had transformed a rarely used office into a small but income-generating medical spa.
Though the original aesthetician has moved on, the spa remains as an added-value service to Sherrill's practice.
"We found that it has been a nice complement to what we do," he says. "Anyone who has a major procedure with tummy, eyes, or breast receives a free facial, so it's a nice way of pampering our patients. Then word-of-mouth spreads, and we get other people to come in."
HELPING THE NEEDIEST IN THE COMMUNITY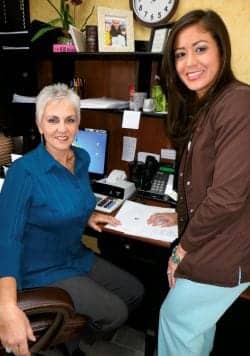 Mitzi Hughes (billing/insurance representative) and Betty Lopez (dermatology assistant)
Beyond his cosmetic practice, Sherrill also pays a great deal of attention to helping others in the community professionally and personally.
He and his former wife adopted all of their three children, and Sherrill is also a very active parent to his youngest daughter, age 10, whom he says gives him great delight at age 63.
Sherrill's community outreach extends to his professional life, as well. He often helps those locally with his reconstructive services.
"There are a lot of people here who need reconstructive surgery and simply don't have the money," he says. "That's a real concern, because you want to take care of your local people. We often talk about going in and doing mission trips in other countries, but we have a big mission here at home."
Sherrill admits he can't afford to address all the Dalton-area residents' needs, but he has contributed to many cases, not only donating his time and skill but also his operating room and related procedure expenses.
He mentions a time when a local health clinic called him about a patient who had been born without a breast and had received a breast reconstruction 15 years earlier. However, even though the implant had ruptured and the patient had no insurance or means to pay for a new procedure, he nevertheless performed the operation.
Sherrill also donated his time to a local resident with an advanced cancer that had destroyed much of his midface and used a snap-on prosthesis that fit onto the remaining maxilla and upper section of his lip. "His upper lip was almost like a rubber band," he says. "One evening, he called me around 7 o'clock and said, 'My upper lip has snapped, and I've got to have something done.' "
After consulting with the man's original plastic surgeons at Johns Hopkins, Sherrill took tissue from the man's lower lip and used it to reconstruct the upper lip. "It was very satisfying," Sherrill says. "He had limited resources. So, when you look at how bad other people have it, it makes our challenges seem so miniscule. We are blessed to be doing what we do."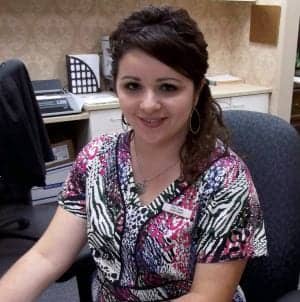 Rosie Arana, receptionist/bilingual assistant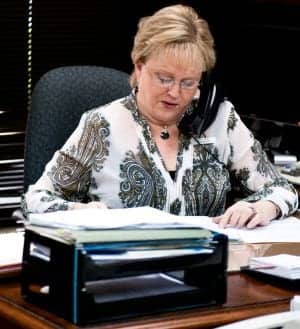 Cheri Riddle, officer manager
THE FUTURE
Sherrill has had a long and successful career in Dalton, but as with any physician in private practice, there have been challenges and sacrifices, as well.
Asked what his greatest challenge has been over the last 29 years, Sherrill replies that the hardest part was finding balance—spending quality time with his patients, his family, and his friends.
He explains, "I used to get called to the emergency room and put in 10- to 15-hour days, including my practice hours. These days, I don't have to go to the emergency room anymore, and that has given me a much better quality of life. I don't mind putting in a 10-hour day, but I want to be able to go home when I'm finished. I can do that now."
Sherrill also credits his office staff for his success at Dalton. His office manager has been with him for all 29 years, and he has one nurse who's been with him 24 years as well as another nurse who has been on his team for 14 years.
"I'm really proud of my office people," Sherrill says. "I'm sure someone's going to challenge me on this, but I think I have the greatest office staff in the world. It's a wonderful group, and I value their opinions."
With more time and a commitment to balancing his career and personal life, Sherrill has recently taken time out from his Dalton practice to travel, usually taking one of his children or another family member on a cruise. He has been on 10 cruises in the last 6 years.
At the same time, Sherrill isn't exactly resting on his laurels. With the recent addition of dermatologist Mary Beth Cole, MD, joining the practice as a new associate, the two are adding needed medical services to their local and somewhat rural community.
While Sherrill has performed many mole and skin cancer procedures, he has often referred his patients to a dermatologist for other skin-related issues. With Dr Cole, Dalton's patients will be able to take care of dermatological concerns in one location.
Reginald R. Sherrill, MD
Dalton Plastic Surgery
1501 Broadrick Dr
Dalton, GA 30720
(706) 226-3311
daltonplasticsurgery.com
"As a native of northwest Georgia, joining Dr Sherrill in Dalton was a sort of homecoming for me," says Cole, who rotated working with Sherrill as a medical student. As a result, she knew that working with Sherrill and his staff would be a good fit. She added, "By having both plastic surgery and dermatology in the same office, the patients benefit from more diverse care. We're able to work together to help treat patients more effectively, and it also allows us to learn from one another as we discuss patients that we share."
Despite his love of traveling, Sherrill has no plans to retire anytime soon. "I love travel," he says, "but I would get sick of it if I did it all of the time. I also love golf, but again, I believe it comes down to balance. By going to work every day, I look forward to my vacations. And when I'm on vacation, I can't wait to get back to work."
---
Tor Valenza is associate editor of PSP. He can be reached at .