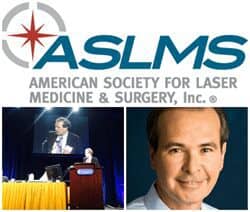 Maryland dermatologist Robert Weiss, MD, is the new president of the American Society for Laser Medicine and Surgery (ASLMS).
Weiss is the director and co-founder of MD Laser Skin and Vein (MDLSV) in Baltimore. He was board certified as a Diplomate of the American Board of Dermatology in 1983, and is a Fellow of the American Society for Dermatologic Surgery, the American Academy of Dermatology, the American College of Phlebology, and member of the American Society of Lasers in Medicine and Surgery. Since 1993, Weiss has served as associate or contributing editor for the journal Dermatologic Surgery. He also served on the editorial board for Lasers in Surgery and Medicine. He is past associate professor at Johns Hopkins University School of Medicine and currently is clinical associate professor at the University of Maryland.
Weiss' present clinical research consists of evaluations of various lasers and energy sources for the treatment of photoaging, noninvasive body contouring, and dermatologic conditions such as acne.
"My goal is to help increase educational opportunities, increase membership, and reach out to laser scientists and clinicians around the world," he says in a news release. "I will do everything in my power to help advance our knowledge and applications of laser and energy devices, and to help foster a creative spirit in order to generate new and innovative uses for laser, light, and energy technologies."