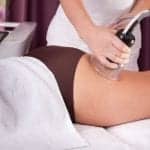 Nonsurgical fat-reduction procedures are in demand, according to the latest statistics from the American Society for Aesthetic Plastic Surgery (ASAPS). Specifically, these procedures rose 43% in the past year, marking the first time that more than 100,000 were performed in 1 year since ASAPS started tracking them.
Also hot are buttock augmentations, which increased by a staggering 86% in just 12 months.
Current nonsurgical fat-reduction techniques include radiofrequency, ultrasound, and cryolipolysis. "The rise in its popularity is indicative of the public's desire for nonsurgical alternatives in lieu of their invasive counterparts," says ASAPS President and Las Vegas plastic surgeon Michael Edwards, MD, in a news release. "Due to the technological advancement and efficacy of nonsurgical fat-reduction devices, it's not surprising that more people are opting to freeze or melt away stubborn body fat in the comfort of their surgeon's office as opposed to undergoing surgery. However, it must be noted the results aren't the same."
Thanks to Nikki Minaj, Kim Kardashian, and other celebs, big butts are considered by many to be the procedure of 2014. "While a rounder, more curvaceous derriere has been in vogue for a number of years, celebrities … have brought the attention to the rear to an all-time high, influencing more women to undergo buttock augmentation to achieve the hourglass look," says Miami plastic surgeon Constantino Mendieta, MD.
In 2014, more than 10 million cosmetic surgical and nonsurgical procedures were performed by board-certified surgeons in the United States.
This marks the 18th year ASAPS has been collecting multispecialty procedural statistics. ASAPS is still in the process of compiling its full 2014 procedural statistical data for 2014. They are slated for release in March 2015. Stay tuned.