LAS VEGAS– You don't get any cooler than the International Consumer Electronics Show. It's the be all and end all show for new technology, which is why Apira Science Inc chose this forum to launch its Indiegogo crowdfunding campaign for the iDerma Facial Beautification System.
The new crowdfunding campaign will encourage collaboration between early adopters and Apira Science to improve the user experience and ensure best-in-class results when iDerma reaches the broader market. The campaign will continue until February 9, 2015.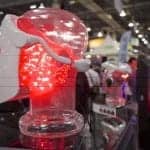 The iDerma system uses red and infrared LED light therapy to reverse and improve the visible signs of aging by stimulating deep cellular regeneration. It can also help heal redness and inflammation associated with acne.
The iDerma's patented full-face visor combines more than 140 red and infrared LEDs with both narrow-angle and wide-angle lenses to cover the entire face. It is fully adjustable to accommodate a wide range of face sizes and improve user comfort.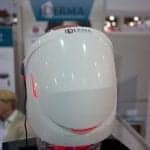 Apira Science also makes the iGrow an in-home hair growth device.