ALPHAEON Corporation has acquired an exclusive United States license for the full line of products from Geneva-based TEOXANE Laboratories.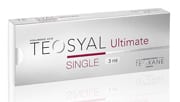 TEOXANE's hyaluronic acid-based wrinkle-filling products, including Teosyal, Teosyal Puresense, Teosyal Redensity, and Teosyal Kiss, are currently available in 90 markets outside of the United States. TEOXANE products contain 100 percent non-animal origin, resorbable hyaluronic acid.
"The partnership with TEOXANE Laboratories is a great fit for ALPHAEON, as both companies possess an unparalleled commitment to delivering science-based, high-quality medical aesthetic products," says Robert E. Grant, chief executive officer of ALPHAEON, in a news release.
TEOXANE Founder and Chairwoman Valerie Taupin will join the ALPHAEON Board of Directors.
"Physicians in the United States have been asking us to bring our innovative products to the US market for many years," Taupin says. As part of the relationship, ALPHAEON will market the full line of TEOXANE Hyaluronic acid-based dermal fillers and cosmeceutical products to credentialed physician specialists in the US. Of course, the soft tissue fillers must be approved by the federal Food and Drug Administration before they become available here.
Wendy Lewis, president of Wendy Lewis & Co Ltd, Global Aesthetics Consultancy, has had her eye on Teoxane for several years. "I have watched them emerge in the European market to be a formidable player in dermal fillers with their fair share of devotees among injectors," she says. "Their point of difference, in my view, is their stunning visuals and packaging, and expanded range of seven targeted formulations for fine lines, lips, and volume restoration," Lewis says. "Although the North American market is flush with Hyaluronic acid products, there is always room for a good product, particularly if it is priced right."
However, TEOXANE does not have a toxin in their portfolio, and this is a disadvantage, she says. "The challenge shall be to convince die-hard injectors that Teoxyal fills an unmet need in their practices. Venturing into direct-to-consumer marketing and public relations will be critical to grow brand awareness. "
ALPHAEON is an operating company that is wholly owned by Strathspey Crown Holdings LLC.