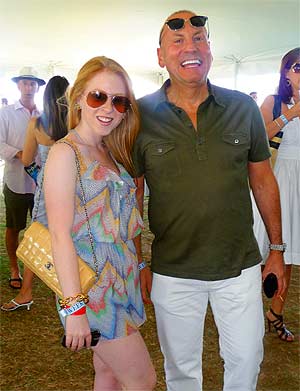 Neil Sadick, MD, and his daughter, Sydney, 18
Whether he is discussing the latest in body contouring, hair restoration, or any other aspect of dermatology, Neil Sadick, MD, is a fixture at the podium of all major industry meetings. As a result, you may think you know all there is to know about this New York City dermatologist and Plastic Surgery Practice adviser.
But there is more to Sadick than meets the eye. Much more. We posed 10 questions to Sadick, and here's what we found out about his professional and personal life.
He is a clinical professor of dermatology at Weill Cornell Medical College in New York City, president of the Cosmetic Surgery Foundation, member of the Board of Examiners for the International Society of Hair Restoration Surgery, and global medical adviser for Christian Dior Beauty, to name just a few of his professional achievements.
But these accomplishments aside, Sadick is also devoted dad, James Bond aficionado, a Yankee fanatic, and the has a zest for Zumba, a latin-inspired dance-fitness program.
1 Procedure you perform most often?
Botox.
2 Procedure you perform least often?
Endovenous laser treatment. It has moved out of the aesthetic realm and into the insurance realm.
3 Favorite procedure?
Laser-assisted liposuction. There is an artistry to body contouring. I also love sclerotherapy because there is such instant gratification from improving women's legs.
4 Healthiest habit?
Exercise. I run marathons, and take indoor cycling and Zumba classes at the gym. I do all of it.
5 Least healthy habit?
Eating dinner late at night because of work.
6 Professional mantra?
I strive to combine gold-standard service with evidence-based medical research in a global fashion.
7 Favorite App?
ESPN's SportsCenter.
8 Speaking of sports, favorite team?
Yankees. I was a baseball pitcher through college and grew up a block away from Yankee stadium.
9 Besides sports, any other hobbies?
I am an avid reader. I read about two books a week. I have read every James Bond book and recently saw the James Bond exhibition in London's Science Museum.
10 Greatest personal accomplishment?
Watching my daughter, Sydney, now 18, grow and evolve into her own person with her own identity. She has her own fashion blog—stylesolutionsnyc.com. She is also a Brand Ambassador for accessory line Theodora and Callum and shoe brand Sam Edelman. She also launched an online store affiliated with Saks, Nordstrom, and SINGER22.com.
---
Denise Mann is the editor of Plastic Surgery Practice. She can be reached at plasticsurgery@allied360.com.