John A. Grossman, MD, FACS, is a man who operates in two worlds—the Denver-based owner of Grossman Plastic Surgery is a family man with a deep-seated love for his profession and a desire to heal people since age 8.
Then there is the Beverly Hills "surgeon to the stars"—double board-certified by the American Board of Plastic Surgery and the American Board of Surgery—whose "Beverly Hills reputation" is due in part to his many appearances on Bloomberg, CNN, NBC, CBS, and ABC television, and coverage in the Los Angeles Times and InTouch Weekly magazine.
The extensive lectures he gives, his authoritative articles, and his status as a Top Doctor (according to a number of influential consumer periodicals) make Grossman a highly respected figure as well.
Among his patients is singer-actress Dolly Parton, who publicly disclosed her connection to the surgeon in an autobiography some years ago. "I've done procedures beyond the obvious for Ms Parton," Grossman adds.
His most frequently performed procedures for all patients are breast enhancements, breast uplifts, and facelifts.
Grossman's favorites—because of the dramatic, immediate, patient-delighting results—are rhinoplasties and tummy tucks.
PRACTICE AT A GLANCE
| | |
| --- | --- |
| Name: | Grossman Plastic Surgery |
| Owner: | John A. Grossman, MD, FACS |
| Location: | Denver and Beverly Hills, Calif |
| Specialty: | Cosmetic facial and body plastic surgery |
| Years in practice: | 33 |
| Days worked per week: | 5 |
| Days surgeries performed per week: | 4 |
| Number of employees in practice: | 16 |
| Office square footage: | 11,000 |
"I never grow bored doing any of these procedures, no matter how many times I do them," he says. "And the reason is, of course, that every patient is different, so the challenge is different each time."
A typical 5-day workweek finds Grossman performing surgery on 4 of those days (3, if his week is broken up by a trip to the Beverly Hills office).
The majority of his surgeries are performed in Denver, with Beverly Hills utilized mainly for postoperative follow-up and new-patient consultations.
His Denver office fills 11,000 square feet of space at Rose Medical Center's Melvin and Elaine Wolf Ambulatory Surgery and Office Building.
In addition to consult and administrative offices, the facility houses two full operating rooms and luxury overnight suites—each available for Grossman's exclusive use.
Rose Medical Center built out his space to his specifications. "The operating room staff is supplied by the hospital and is dedicated to my practice. I've got a private chef who prepares gourmet meals for patients staying overnight," he says.
ALL ARE A BREED APART
Clearly, Grossman is something of a breed apart, but he will tell you that the same is true of all plastic surgeons, and it is by dint of their nature and training.
"We are individuals who are innovative, exceptionally knowledgeable of anatomy, possessed of a profound respect for the composition of tissues, and understand better than most other specialists the art and science of healing," he says.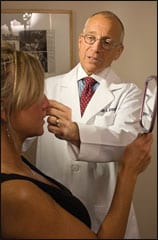 During a typical workweek, John A. Grossman, MD, FACS, performs surgery on 4 of 5 days—3 days, if his week is broken up by a trip to his Beverly Hills office.
True aesthetic and reconstructive plastic surgery are areas of medicine that allow the practitioner's imagination to freely roam, he notes, adding, "Physicians who yearn to tinker and imagine what could be make the best plastic surgeons. I am convinced."
Underscoring his point, Grossman notes that the first kidney transplant was performed by a plastic surgeon.
In addition, plastic surgeons laid the groundwork for orthopedic surgeons to accomplish the many wonders of modern hand surgery.
"Plastic surgery itself developed out of trauma surgery, where doctors were confronted by difficult problems and challenged to come up with innovative means of creating solutions," he recounts.
Grossman has a ready response for those who ask him to define the difference between surgeries in general and plastic surgery. The latter, he explains, is simply surgery done well.
Plaintiffs' attorneys may be lurking just around the corner, he says, checking to see if aesthetic surgeons are practicing in accordance with a standard of care or merely making it up as they go.
A defining characteristic of the plastic surgeon is the willingness to make it up as they go, he adds. "Willingness to make things up is the basis of innovation and change."
In his own work, Grossman is interested in finding and adopting techniques to perform surgeries that entail ever-smaller incisions and less dissection.
Combining two or more conventional techniques is one way he often accomplishes this.
Facelifts, for instance: "The greatest improvements are achieved when you segregate the anatomic cosmetic units of the patient's facial structure and identify those that are demonstrating aging changes, then concentrate on addressing them with shorter, more effective techniques, such as the combining of lifting and filling," he says.
Since 1999, Grossman has championed the use of human fibrin sealant as a means of ameliorating postoperative bleeding and its associated problems.
"I've long been intrigued with the idea that it is possible to seal tissues by causing the chain-reaction formation of clots in the absence of blood cells," he says.
Today, Grossman uses fibrin sealant in virtually all his routine surgical work. "I no longer need drains and compressive dressings. Patient comfort is improved, the incidence of postoperative bleeding of the sort that may require a trip back to the OR is reduced to virtually nil, and the healing process is appreciably shortened."
Interested in the healing process from an early age, the New York City-bred Grossman does not regret making this career choice at an early age. "Looking back, going into medicine was a wonderful decision for me," he says.
While attending Cornell University Medical College, the then-recent graduate of Princeton University set his sights on becoming a pediatric surgeon, but changed his mind when he reached the intern stage of training.
"By the end of the very first day, I knew pediatrics was not for me," he recalls. A sympathetic department chairman allowed Grossman to spend the remainder of his internship learning just the surgical side of children care.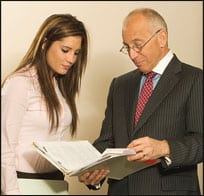 True aesthetic and reconstructive plastic surgery are areas of medicine that allow the practitioner's imagination to freely roam, Grossman claims.
From there, Grossman moved to a general surgical residency at Harvard Medical School. A little more than halfway through the program, Grossman discovered the joys of aesthetic surgery and settled on that as his area of specialization.
He headed west for plastic surgery residency at the University of Colorado. His four young daughters loved living in Denver so much that Grossman banished from his mind all thoughts of uprooting the family, and, thus, settled on opening his private practice there in the Mile High City. The year was 1975.
Among the patients seen in the salad days of his practice—christened Grossman Plastic Surgery—were a handful of Hollywood types who maintained vacation homes in nearby Aspen, Colo.
They were pleased with Grossman's work to the point of urging him to open a satellite office in Beverly Hills.
"These patients kept telling me that it would be so much more convenient for them to have follow-up in California, where they live, than to keep having to come back to Colorado all the time," he explains.
Accordingly, Grossman in 1984 added a prestigious Beverly Hills address to his enterprise.
Initially, he subleased office space there. Later, he moved into facilities of his own.
LONG-DISTANCE LOGISTICS
At first blush, it would appear that the logistics of running offices spread almost 850 miles apart are, to say the least, complicated.
However, Grossman claims that he has a firmer grip on things than do most plastic surgeons with satellites.
"The secret is I leave nothing to chance. I have policies and procedures to cover every situation. Everyone in both offices has assigned tasks, and they know exactly how to perform them," he explains.
Importantly, the patient mix in the Beverly Hills office does not duplicate that of Denver.
"The patients I see in Beverly Hills are, for the most part, associated with the entertainment industry and are highly mobile. They, more than other plastic surgery patients, are accepting of the need to travel a far distance in order to obtain services they deem vital," he says.
Indeed, willingness to travel to Denver is a prerequisite for Beverly Hills patients because Grossman works at his California office an average of just 4 days per month.
Grossman's Beverly Hills office building is, notably, the backdrop for episodes of television's Dr. 90210 reality series about aesthetic surgery.
He is not among the showcased physicians, but he appreciates the value—and knows the dangers—of the media limelight.
"Television exposure can be a great benefit to our profession if the exposure is used to impart good, trustworthy education about aesthetic plastic surgery," he says. "If, on the other hand, the goal of the exposure is to make a star out of the plastic surgeon, then there's the likelihood that the factual information will be obscured, and I'm not sure how helpful that is to the consumer."
Television shows with plastic surgery themes should begin each episode with a 30-second discourse about the risks of surgery and the need to exercise care in selecting a physician, he notes.
"We have to be able to temper the entertainment with factual information, and I think [that approach] would be a good way to do it," he adds.
Another problem with media attention is it tends to roil physician self-perceptions, he says. The coverage, the fawning, all of it causes some beneficiaries to develop an exaggerated view of their strengths while losing sight of their weaknesses.
"Your 15 minutes of fame are put to best advantage if you use them to position yourself as a local expert on all things pertaining to cosmetic plastic surgery," Grossman counsels.
"The message that should accompany this positioning is it is not necessary for consumers to go to Park Avenue in Manhattan or Rodeo Drive in Beverly Hills to obtain excellent surgical results," he says.
---
Rich Smith is a contributing writer to PSP. He can be reached at plasticsurgery@allied360.com.
REVERSE MEDICAL TOURISM SYNDROME
Lured by exotic locales and the prospect of bargain prices, people from across the United States are increasingly taking vacations at offshore cosmetic plastic surgery centers.
John A. Grossman, MD, FACS, does not deny that some aesthetic surgeons at those foreign centers are skilled.
In many instances, they are American-trained and perform their work in facilities that could well pass muster if inspected by a United States-based accrediting body.
That said, the Denver-based plastic surgeon also believes most Americans who travel abroad for aesthetic procedures ought to have their heads examined.
"It borders on the insane," he says, expressing bewilderment. "People choose a mechanic to tune their BMW with more care and research than they do an out-of-country plastic surgeon for their facelift or tummy tuck. It's hard to fathom."
Grossman—who also maintains an office in Beverly Hills, Calif—blames himself and his colleagues throughout the physician community for not having done a better job alerting the public to the dangers of medical tourism.
"Internet exposure and discussion of cosmetic surgery has been a two-edged sword," he says. "It's been great for building broad awareness of cosmetic surgery and the benefits of same. But it's also been a source of completely unedited, unfiltered, unverified information that many people assume to be absolutely factual and true."
What's the solution? Consumers should be directed to sources of credible science-based information, such as the Web sites of the American Society of Plastic Surgeons and the American Society for Aesthetic Plastic Surgery.
"Both organizations' sites offer good materials on things like how to choose a plastic surgeon," he says.
FIVE-STAR SERVICE
Of course, the flip side to medical tourism is "reverse medical tourism," which Grossman deems a positive trend.
"Because the US dollar is so weak right now, the opportunity exists for many more people from overseas to come to our country to have aesthetic plastic surgery performed by American plastic surgeons," he says.
"The purchasing power of their own currency relative to our dollar is now much greater, so American … surgery services are to the people of Europe and Asia a much better buy than in the past."
As Grossman hints, everything a consumer could ever need with regard to quality of care, good results and, yes, even affordability is closer to home than one might imagine.
Certainly, they are closer than a trip overseas for a risky undertaking of medical tourism.
—RS
FIT AS A FIDDLE ON THE FAIRWAY
Aesthetic surgery cannot be performed with the kind of brute force necessary to drive a golf ball 300 yards down the fairway.
However, the game of golf can—and ideally should—be played with the kind of surgical precision necessary to produce a terrific-looking pair of breasts.
Denver-based cosmetic plastic surgeon John A. Grossman, MD, FACS, appreciates the truth of that assessment because golf is his game. He has been playing for years and still finds it is a great way to unwind.
Nonetheless, Grossman is not one to unwind so much that his body turns gelatinous. To avoid such a fate, he spends time daily in the gym and gives his muscles a brisk workout.
He is a firm believer in keeping physically fit, a condition that serves to boost his endurance and makes those long hours in the OR easier to bear.
It also helps make more tolerable those lengthy waits in line to pass through airport security. This is because Grossman travels to Seattle and New York City as often as he can in order to visit his eight grandchildren. And, every year, he and his wife wing their way out to Hawaii for a restful, sun-drenched vacation.
Left behind during those excursions are Grossman's two 80-pound standard poodles. "These boys are really intelligent," he says. "I'm convinced that every time I leave the house, one of the poodles studies quantum physics and writes haiku, while the other practices to take the place of [Los Angeles Lakers shooting guard] Kobe Bryant."
Somehow, Grossman squeezes in time for reading, art, and educating others.
Also, he and his wife are involved in several charitable organizations. "We're longtime supporters of Children's Hospital in Denver and the Denver chapter of the Children's Diabetes Foundation," he says.
"I was at one point a chairman of the board of trustees of what then was called the Rose Foundation—now the Rose Community Foundation—which supports a myriad of causes in the Rocky Mountain region and, with over $300 million under its control, is one of the largest charitable community foundations in the nation."
Other organizations supported by Grossman include Denver's Kemp Center (for the treatment and prevention of child abuse and neglect) and National Jewish Hospital and Medical Center.
Grossman has been in practice for 33 years and thinks not a whit about retiring. "I feel as young today as when I started my practice, so as long as my skills stay sharp, you'll find me where I belong—in the operating room."
—RS