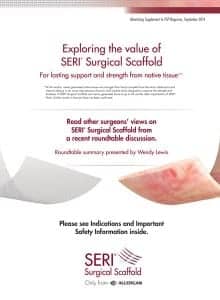 Five well-known, board-certified plastic surgeons assembled for a roundtable discussion of SERI® Surgical Scaffold on March 6, 2014, in Newport Beach, California. Each participant's experience using SERI® Surgical Scaffold for soft tissue support and repair generated valuable discussion about the use of this product technology in mastopexy and breast revision procedures.
Before long, fundamental themes about SERI® Surgical Scaffold emerged from the roundtable dialogue, including lasting soft tissue support and strength from native tissue,1,2,* its ease of use, and its value in soft tissue support and repair applications. Among panel participants and the contributing faculty members, it was clear they felt this innovative technology will make a lasting impact in soft tissue support and repair for breast revision and mastopexy procedures.
Download the supplement today to discover SERI®.