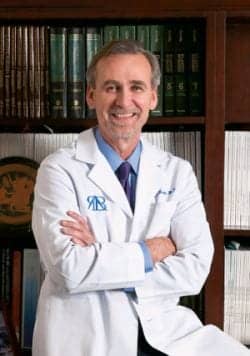 You may have heard Seattle Plastic Surgeon Richard A. Baxter, MD, speak at many aesthetic meetings about a new technology he's gotten behind or even the anti-aging benefits of a glass of fine red wine, but did you know he can tango?
Probably not. That's why Plastic Surgery Practice posed 10 questions to Baxter, the past president of the Washington Society of Plastic Surgeons and the Northwest Society of Plastic Surgeons, and the author of Age Gets Better with Wine. We wanted to find out more about his practice, his passions, and what encouraged him to learn how to do the Argentine tango.
1 Procedures you perform most often?
As a category, the largest part of my practice is breast surgery, both primary augmentation and increasingly, revisions of cases where things didn't turn out as planned.
2 Procedure you perform least often?
As for procedures I do rarely, I believe that if you don't have a high enough volume to maintain proficiency, then you should let others do those procedures. Despite the fact that plastic surgery training includes microsurgery, craniofacial, hand, and reconstructive surgery for all parts of the body, it is impractical to try and do it all and be really good at everything. So my focus has moved to cosmetic surgery and some types of breast reconstruction.
3 Do you miss any of the procedures you performed in the early years?
I miss doing pediatric reconstructive surgery, which I did early in my practice. Performing a good cleft lip repair or building a new external ear from existing "spare parts" is a very gratifying tour de force. I try to combine the artistry and technical proficiency required to do those types of procedures to cosmetic surgery.
4 Favorite procedure?
Picking a favorite procedure is like picking a favorite child. I may have one or two, but I wouldn't want to let the others know they aren't loved as much!
5 Healthiest habit?
My healthiest habit is also what some would consider a guilty pleasure: good wine.
6 Speaking of wine, what made you write a book on this subject?
I have always enjoyed great wine, and as the science of anti-aging began to converge around wine, I started to look into the science in more detail. There are now thousands of peer-reviewed publications on the subject, and I realized that no one had really connected the dots between the various fields of research. This led to my book, Age Gets Better with Wine (Wine Appreciation Guild, South San Francisco, 2009).
7 What are some of the benefits of wine?
There is very compelling data that shows the benefits of a glass or two of red wine with dinner: longer life span (5 years on average), higher quality of life, and lower risk of a wide range of diseases associated with aging. What is not so clear is whether any of these benefits can be achieved with supplements of wine-containing compounds despite intense market hype. Plus, wine tastes good!
8 Professional mantra?
My guiding motivation in plastic surgery boils down to creative problem-solving and the desire to find better ways to accomplish the patient's goals. This probably comes from my background as an art major with a science aptitude.
9 Charity of record?
I am participating in a fund-raiser based on Dancing with the Stars, which benefits a local organization called Plymouth Housing Group (PHG). PHG provides permanent housing solutions for the long-term homeless, many of whom are disabled and veterans. The first step in confronting the many challenges they face is to establish a roof over their heads in a safe and stable environment. Plus, it is an opportunity for me to learn Argentine tango, which is a huge challenge.
10 Technology you couldn't practice without?
There are so many things I rely upon in this age of high technology that it is really difficult to pick just one indispensable one. Interestingly, the most important ones aren't all that new, so I am going to go with fiber optic lighted retractors. These provide illumination into the surgical site in a way that allows for direct visualization of every part of the surgery.
---
Denise Mann is the editor of Plastic Surgery Practice. She can be reached at . Richard A. Baxter, MD, can be reached via .