April 2014 Plastic Surgery Practice
The dual roles of Michael Edwards, MD
By Denise Mann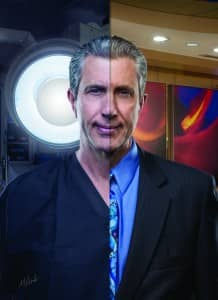 Las Vegas is hardly known for health food and healthy living. Sin City, as it has been called, is more often associated with sprawling all-you-can-eat-buffets and spin-offs of some of the finest restaurants and gastropubs in the US, from Nobu and Aureole to Guy Savoy and Le Cirque.
Still, Las Vegas plastic surgeon Michael Edwards, MD, starts each day at 5 am with a frothy green beverage replete with kale, spinach, blueberries, and megadoses of vitamins and minerals.
Health is a priority for Edwards, who has dropped close to 20 pounds in the past year with the help of a nutritionist—and it should be, as he is about to embark on one of the most grueling, yet rewarding phases of his career.
Edwards will be inaugurated as the president of the American Society for Aesthetic Plastic Surgery (ASAPS) in late April at the group's annual meeting in San Francisco. This is a big job in and of itself, but Edwards is also the president-elect of the Clark County Medical Society and has just joined Anson, Edwards & Higgins Plastic Surgery Associates.
"I've been and will be quite busy," he says. Multitasking all of these high-profile roles requires a military-like precision and the ability to seamlessly switch gears at a moment's notice. Fortunately, this comes easy for Edwards, a former United States Air Force Lieutenant Colonel.
Taking over as president of any major medical society involves both domestic and international travel, and early-morning and late-night committee meetings, with some writing, lecturing, and photo ops thrown into the mix.
Something has got to give; and often, that is surgeries and practice profit margins. All of the added responsibility can eat away at a practice if proper arrangements are not in place.
STATE OF THE UNION
But Edwards and his new partners have this covered.
A buzzword in plastic surgery circles today is "multispecialty." After years of infighting, aesthetic physicians with different skill sets and training are banding together to form lucrative partnerships. "We all believe we do everything the best, but other core specialties, dermatologists, facial plastic surgeons, and oculoplastic surgeons do great surgery in their area of training, and we all have the same goal: patient safety and good outcomes," Edwards says. "I feel group practices in plastic surgery will become more and more prevalent, especially with changes we see in the healthcare system," he says. The days of the successful solo practice do seem to be waning.
Edwards' new multispecialty practice includes two board-certified plastic surgeons—Drs Goesel Anson and Terry Higgins—a board-certified dermatologist, two nurse injectors, and a four-member skincare team. Plans are in the works to develop a premier skin care line and possibly add another partner.
When Drs Anson and Higgins first approached Edwards, they knew he had an excellent reputation, but they didn't know he was about to be tapped as ASAPS president.
It's serendipitous. "It will free him up to have partners that he trusts to follow up on his patients when he leaves town," Higgins tells PSP. "His patients will be taken care of in the same way that he does."
Edwards sees other benefits to the union as well. "If someone came in and wanted to discuss facial surgery, instead of sending them out, I can refer them to two plastic surgeons who do them well all of the time." It isn't that Edwards is not well-trained in facial surgery; he has chosen to focus his practice on all facets of aesthetic breast surgery. "I am very fortunate to be able to focus on what I really enjoy doing," he says.
BREAST IN THE WEST
Las Vegas conjures up images of super-sized breast implants, too-tan skin, and corset-sized waists, but that is not the reality or the majority, Edwards says. "The average implant size in Las Vegas is larger than other parts of the country," he says. Just how large? "The average breast implant size in Las Vegas is 450 cc's, but I have used implants that range from 200 to 800 cc's."
By contrast, the average volume used in the United States is in the 300 to
350 cc range. "There are practices that cater more to showgirls and topless entertainers," he says. "I take care of a wide variety of patients, including moms, attorneys, physicians, and many women who work in various roles in the service industry, such as cocktail waitresses, dealers, and entertainers," he says.
And take care of them he does. To further enhance his breast patients' experience, Edwards plans to incorporate ultrasound imaging into standard practice. "Quite frankly, women are having the breast augmentation surgery, but many can't afford the mammogram or magnetic resonance imaging that is recommended to screen for ruptures in silicone breast implants," he says. "High-resolution ultrasound has shown good correlation with integrity of implant with recent studies," he says. In the new paradigm, the ultrasound won't take the place of rigorous screening, but it could—and should—fill an important void in certain plastic surgery practices.
The equipment is relatively inexpensive, portable, and easy to operate. "We can use this as a modality to look at a breast implant or detect seromas under tummy tuck flaps in the office, as opposed to sending someone off for a more formal study right away," he says. In the field, this technology is used to triage the injured and infirm, and it could have a similar role in aesthetic surgery practices. Edwards is planning to become certified in performing breast ultrasound and would like to explore a training course for other plastic surgeons.
MR PRESIDENT
With his practice well cared for, Edwards has set some lofty goals for his year as ASAPS commander in chief. Plastic surgery is at somewhat of a crossroads today. Procedural numbers are creeping up by all accounts, but changes in health care may tempt many more people to hang a cosmetic shingle and compete for patients with board-certified plastic surgeons. All the while, these patients will have less discretionary income due to higher deductibles, so cut-rate procedures may seem even more tempting. And as plastic surgery becomes commoditized, patient safety can become jeopardized.
Patient safety is Edwards' siren song. He was the author and driver of a patient safety bill on Truth in Advertising that was passed during the 2013 Nevada Legislative session. Before, "Patients could go to a doctor's, nurse practitioner's, or physician assistant's office, and they don't know who they are, how or if they were trained, but now they have to divulge their board certification, credentials, and training in all forms of advertising."
Edwards' defense of his specialty is to form a strong offense. "I want to continue to reach out to plastic surgery residency programs and avail ASAPS as a resource," he says. Aesthetics is an integral part of training already, but he hopes ASAPS members can supplement and improve the education. He also plans to beef up efforts that encourage plastic surgery residents to attend ASAPS meetings, publish in the Aesthetic Surgery Journal, and to apply for grants through ASAPS' research foundation, Aesthetic Surgery Education and Research Foundation.
"At this time, we need someone like Edwards, who will be thoughtful, careful, and considerate as we grow ASAPS as a leading organization in the field of aesthetics, and as we plan for the future," says St Louis-based Herluf Lund, MD, an ASAPS board member and the group's membership commissioner. "I believe his leadership will take us further than ever before."
Denise Mann is the editor of Plastic Surgery Practice. She can be reached at dmann@allied360.com.
Original citation for this article: Mann, D., Double take: The dual roles of Michael Edwards, MD, Plastic Surgery Practice. 2014; April: 12-17.