INDEPTH
Fat Chance
Harnessing the potential of regenerative medicine
By Wendy Lewis
The 11th Annual Meeting of the International Federation for Adipose Therapeutics and Science (IFATS) attracted an all-time record number of attendees who share a special interest in regenerative medicine and stem cell technology. With nearly 500 people from 40 countries in attendance, IFATS was a veritable who's who in the world of fat.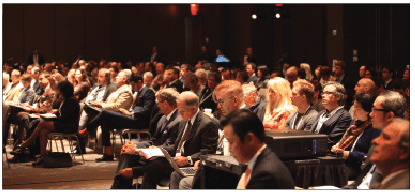 Among the highlights were a strong focus on both clinical translation and basic bench science. There were more than a dozen sessions on such hot topics as stem cell-enriched fat grafting, aging, bone regeneration, nerve repair, and wound healing. Clinicians also discussed the commonly used fat grafting methods for the breasts, gluteal area, and face. The program included a special short course on the fundamentals of adipose-derived stem cells (ADSCs) for clinicians not well-versed in stem cell terminology.
"The real future of surgery is regeneration, and the future of fat grafting will be shaped by research and education," says IFATS co-president and member of the board of directors, and New York City-based plastic surgeon Sydney Coleman, MD.
According to The Wall Street Journal, a new report released by Elsevier, EuroStemCell, and Kyoto University's Institute for Integrated Cell-Material Sciences reports that stem cell research is growing twice as fast (7%) as the world average growth in research (2.9%). Stem cell publications are 50% more cited than the world average for all related subject areas. Around half of all stem cell papers use keywords related to "drug development" or "regenerative medicine." While Singapore, Italy, the United States, Japan, and Israel show the highest level of activity in stem cell research, the United States and China show the highest volume.
"The incredible growth of the IFATS meeting has paralleled the tremendous expansion of the field of adipose stem cell biology," says J. Peter Rubin, MD, FACS, one of the IFATS founders and a plastic surgeon at the University of Pittsburgh Medical Center (UPMC).
And the range of the potential applications is enormous. "The wonderful thing about adipose stem cell science and applications is that it is relevant to so many different medical specialties," Rubin says.
It is somewhat awe-inspiring, agrees Spencer Brown PhD, executive director, UPMC Center for Innovation in Restorative Medicine in the Department of Plastic Surgery. He says that the potential for regenerative medicine spans a wide range of areas from neurology to oncology, dental, kidney, bladder, endocrine, blood, cardiac, ophthalmology, reconstructive surgery, and the list goes on.
Some of these therapies may be years down the road, others are not so far off, and others are already being used.
SURVIVAL OF THE FITTEST
Maximizing fat graft survival was a key focus at the meeting. According to Ivona Percec, MD, a plastic surgeon at the University of Pennsylvania, "The role of aging is very important and somewhat overlooked in graft survival. We have to look at which cell type is most compromised by aging and how this contributes to graft survival. Aging is very difficult to study in humans, and there is genetic and environmental heterogeneity," she says. "The most relevant biological component of aging is the onset of aging, yet we have no viable panel of biomarkers."
That's the missing link. "For the future of adipose-based applications," she continues, "we will need to establish aging biomarkers in specific adipose fractions. We need to establish which molecular pathways are responsible for aging, and to shorten the time to clinical observations without sacrificing rigorous data."
What is the age limit for fat grafting? Percec says that patients over the age of 65 should be excluded. Rubin is more cautious with smokers. Other contraindications may include history of malignancies, very low or high body mass index, and/or previous lumpectomy.
Guy Magalon, MD, a plastic surgeon in Marseille, France, reports that the adjunct use of platelet-rich plasma (PRP) can enhance the survival of fat grafts. However, the effect of PRP in fat grafting is still lacking definitive controlled clinical trials that take into account the various preparations currently being used. The companies that are marketing PRP are not incentivized to produce the requisite data.
"Among the most exciting scientific findings at IFATS 2013 was the identification of the anti-inflammatory properties of adipose-derived stem cells. This has implications in a myriad of clinical applications," says meeting co-chair Kacey G. Marra, PhD, from the University of Pittsburgh.
According to Rubin, building upon autologous fat transfer is very important. "We have taken a progressive development approach building off traditional fat grafting. We have to start somewhere to use stem cells and additives to make these therapies perform better."
Substantial challenges remain for fat transfer in trauma that include variable and unpredictable resorption, a hostile environment, and the variation in healing among patients, according to the presenters.
To that end, Boston-based plastic surgeon Daniel DelVecchio, MD, challenged device manufacturers to prove that their systems can really deliver better-quality fat. "Not all fat grafting is the same," he says. "After 10 years, we still haven't proven that stem cell-enriched fat does anything for large volumes."
ALL EYES ON INDUSTRY
The IFATS program began with a symposium focusing on the business side of ADSCs that featured perspectives from industry leaders and physicians. These industry sessions raised questions about what physicians are doing in their offices that may be unregulated. There was a call to action to ensure consistency of dosages, optimum sterile conditions, and that all procedures are being done properly.
There was also a plea for more policing of the industry and speaking up if a company or organization is not marketing its technology appropriately, or is making wild claims. According to Mary Pat Moyer, PhD, of INCELL Corp in San Antonio, "We also have the challenge of desperate patients. We get calls from patients wanting us to do things that we are not ready to do yet."
The panelists concurred that companies as well as clinicians are claiming they can do things right now that science cannot support. R. Lee Buckler, managing director of Cell Therapy Business in Bellingham, Wash, urged the industry to monitor the hype. "We have an obligation as an industry to guard against companies and doctors who don't follow the rules. There is no magic shortcut."
Regulatory hurdles and discrepancies were other areas of concern among both investors and researchers. "Basically, the FDA would like to regulate every stem cell out there because they see an industry getting ahead of them," says Pamela Layton, founder and CEO of PARCELL Labs in Natick, Mass. Bill Cimino, CEO of The GID Group Inc in Louisville, Colo, says that there are global issues in bringing technology to market. "Each country is different in terms of regulatory hurdles. It is a very complex and difficult area for us." Some countries are known to be more friendly than others, such as Thailand, Korea, the Philippines, Mexico, Panama, and the Dominican Republic.
Although progress continues to be made in the field of stem cell therapies, more clinical studies are needed. Beverly Hills, Calif, plastic surgeon Peter Bela Fodor, MD, FACS, says that, "In spite of this, there are many more questions than answers. Most importantly, we do not know whether the stem cells themselves, or the stromal vascular fraction (SVF), or a combination of the two, will ultimately be most effective." Currently, studies are investigating the age-related factors of stem cell activity and the other beneficial effects of ADSCs with SVF in the treatment of degenerative osteoarthritis of the knee, and the facial rejuvenative effects of fat injection alone versus fat and stem cells/SVF.
Fodor adds that progress in the United States is somewhat stymied by more rigorous federal Food and Drug Administration stipulations than exist with governmental agencies of other countries.
G. Patrick Maxwell, MD, FACS, a plastic surgeon in Nashville, Tenn, sums up the IFATS and the regenerative medicine revolution best: "This 'meeting of the minds' took documented science to early, but clear clinical validation. There is incredible opportunity in the regenerative space, yet it will take the best and brightest to carefully craft a regulatory pathway to bring this to clinical reality in the US." n
Wendy Lewis is president of Wendy Lewis & Co Ltd, Global Aesthetics Consultancy,
www.wendylewisco.com, founder/editor in chief of beautyinthebag.com, and a contributing editor to Plastic Surgery Practice. She can be reached at wl@wlbeauty.com.
Original citation for this article: Lewis, W. Fat chance, Plastic Surgery Practice. 2014; January: 24-27
View PSP's special regenerative medicine issue here.