Galderma Lab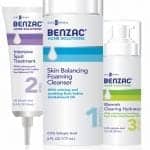 oratories is rolling out its first over-the-counter acne regimen.
Benzac® Acne Solutions is slated to hit store shelves on December 29, 2014, and will be available online stating January 2, 2015.
The three-step regimen includes a foaming cleanser, spot treatment, and blemish-clearing hydrator. Among the key ingredients are salicylic acid to unclog pores, zinc and extracts from honeysuckle and kakadu plum to improve skin tone and texture, and East Indian Sandalwood Oil. The latter is extremely rare and possesses potent anti-inflammatory and antibacterial properties. It is derived from trees in an East Indian sandalwood plantation in Northern Australia, where trees are continuously replanted to preserve and grow the once dwindling population. Benzac is the only product to contain this oil.
"It's used to treat mild-to-moderate acne. There was a very low incidence of side effects, and the key ingredient is from a sustainable source," says Jeanine Downie, MD, a dermatologist in Montclair, NJ, during a media event in New York City.
Another selling point: it's vegan. Downie says, "I think it's going to be groundbreaking."