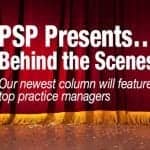 Plastic Surgery Practice magazine is rolling out a new monthly feature that spotlights practice managers and the important role they play within the physician's office.
Sponsored by CareCredit, the new column, "Behind the Scenes," will profile a practice manager each month. The article will discuss what they do and how they do it, and will provide tips on how to add value to a practice and increase conversion ratio along with other tricks of their trade.
The editorial staff is responsible for choosing and vetting candidates. Submissions and pitches are welcome.
"I'm excited for the opportunity to shine a light on the best of the best," says Denise Mann, editor of Plastic Surgery Practice magazine. "These are the people that really allow doctors to do their best work by cultivating a friendly environment and effective intake processes."
The new feature kicks off in the December 2014 issue and will feature the Association of Plastic Surgery Assistants (APSA) and the American Society of Plastic Surgery Administrators 2014 Member of the Year.
This joint award, also made possible in collaboration with CareCredit, recognized a top professional from either organization who demonstrated innovative thinking, business acumen, and leadership qualities within the practice. The winner received the award at APSA's 40th Annual Educational Seminar in Chicago.
"The ongoing mission of Plastic Surgery Practice is to provide practical content and valuable pearls of insight to our readers. We are thrilled to continue to grow our editorial product, and commend CareCredit for seeing the value of showcasing these exemplary individuals," says Jodi Smith, the associate publisher of Plastic Surgery Practice magazine.
To suggest a practice manager to be featured in "Behind the Scenes," contact:
Denise Mann | Editor
For advertising opportunities, contact:
Jodi Smith | Associate Publisher
4303 W 119th Street, Leawood, KS 66209
Office (267) 746-1050