Certain over-the-counter acne treatments containing the active ingredients benzoyl peroxide or salicylic acid can cause rare, but serious and potentially life-threatening allergic reactions or severe irritation, the US Food and Drug Administration (FDA) warns.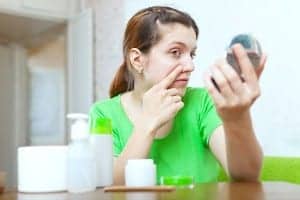 These serious allergic reactions differ from the less harmful irritations already included in the product Drug Facts labels, which include burning, dryness, itching, peeling, redness, and slight swelling where the product is applied, the FDA states.
"There is currently no mention of the possibility of these very severe allergic reactions on the product labels," says Mona Khurana, MD, a medical officer at FDA, in a news release. "It's important that consumers know about them, and that they know what to do if they occur."
Products of concern are marketed under different brand names such as Proactiv, Neutrogena, MaxClarity, Oxy, Ambi, Aveeno, and Clean & Clear. They are available as gels, lotions, face washes, solutions, cleansing pads, toners, and face scrubs.
From 1969 through January 28, 2013, FDA received 131 reports from both consumers and manufacturers of allergic and hypersensitivity-related adverse reactions associated with these products. About 42% of these reactions occurred within minutes to 24 hours of use. The affected persons ranged in age from 11 to 78 years.
Forty percent of these reports described severe allergy symptoms such as throat tightness, shortness of breath, wheezing, low blood pressure, fainting, or collapse. Isolated instances of hives, itching of face or body (even of parts of the body where the person did not apply the medication), and swelling of eyes, face, and lips were also reported. At this time, the FDA cannot determine if these reactions were triggered by the products' active ingredients, the inactive ingredients, or a combination of both.
While no deaths have been reported, 44% of the cases required hospitalization.
"While no deaths have been reported, 44% of the cases required hospitalization."
Tips for Your Patients
The FDA is also encouraging manufacturers to use the drug label to advise consumers how to test the product's safety before using it for the first time.
For example, Khurana suggests that new users should apply a small amount of the product to a small affected area for 3 days. If no discomfort occurs, they can follow the labeled directions for normal use.
Other tips to share with patients include:
• Avoid using the product if you've had previous allergic or hypersensitivity reactions.
• Stop using the product if you develop hives or itching of the face or body.
• Stop using the product and seek immediate medical attention if you develop throat tightness or swelling of the eyes, face, lips, or tongue; feel faint; or have difficulty breathing.
The FDA encourages consumers to report any negative reactions or side effects from use of these products to the FDA's MedWatch program.