By Wendy Lewis
Cosmetic doctors from around the world assemble at Le Palais de Congres in Paris
This was my eighth IMCAS congress, and like most women, I never need an excuse to make a trip to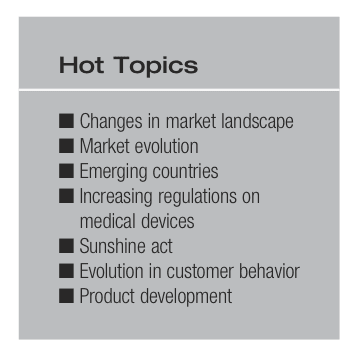 Paris, even in the dead of winter. The 15th-anniversary Annual Meeting did not disappoint.
IMCAS is the first important European meeting of the year, and a must-see to get educated on what's happening around the globe. The 2013 congress, held January 31 to February 3, featured more than 300 international speakers, and attracted 4,000 participants from 85 countries and 145 exhibitors. This program included several features never before seen at Le Palais de Congres, including an Injectables Cadaver Workshop led by Benjamin Ascher, MD, and Philippe Kestemont, MD, a Lipofilling and Stem Cells Workshop chaired by Guy Magalon, MD, and Ali Mojallal, MD, PhD, more than 85 scientific sessions, over 30 live demonstrations, 25 industry-sponsored symposia, and a dozen teaching courses, plus a half-day Industry Tribune that featured most of the pillars of the aesthetics and industry analysts. Practically every current and future topic of interest in aesthetic medicine, dermatology, and cosmetic surgery was given some podium time, including hair restoration, home devices, tattoo removal, hyperhidrosis, hand, neck, and décolleté rejuvenation, and novel combination therapies.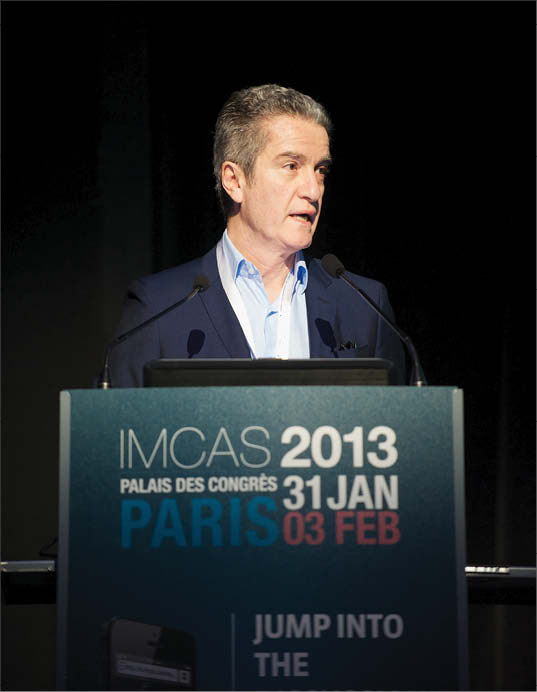 Benjamin Ascher, MD, addresses the IMCAS crowd.
"I have had the opportunity to see IMCAS grow over the past 15 years into the most important conference in Europe for new product launches. The scientific program continues to include clinical studies, emerging technologies, and an impressive faculty of dermatologists, plastic surgeons, facial plastic surgeons, and other specialists from around the world," says New York City dermatologist David J. Goldberg, MD, IMCAS course coordinator.
The Injectable Scene
Some of the top themes of this IMCAS included fat reducing and augmenting, various forms of platelet-rich plasma (PRP), and a plethora of hyaluronic acid (HA) formulations for targeted areas. Ascher mentioned what he referred to as "les flops" in recent years, including the permanent Polyalkylimide filler called Bio-Alcamid from Polymekon, and the hyaluronic acid gel for breast and buttock enhancement marketed as Macrolane™ from Q-Med.
One of the most significant launches was a new technology platform from Allergan, Juvéderm® Volbella® with lidocaine (juvedermultra.eu), specially developed for the perioral area and lip contours. Juvéderm® Volbella® with Lidocaine is the latest addition to the Juvéderm® range touting Allergan's novel Vycross™ technology that boasts a combination of low- and high-molecular-weight technology, which improves the cross-linking efficiency of HA chains, allowing a lower concentration of HA to be used. The results are an ultra-smooth gel, reduced swelling, a natural look and feel, and improved duration. According to Cannes Facial Plastic Surgeon Hervé Raspaldo, MD, and one of the investigators for Volbella®, "Juvéderm® Volbella® with Lidocaine is a real evolution in perioral treatment. This is the only dermal filler clinically proven to last up to 12 months in the lips with a single treatment."
Among the highlights of the scientific program, Nelly Gauthier, MD, a cosmetic doctor in Paris, presented her research and experience on the limits of hyaluronidase, which has been suspended in France since 2001 because it theoretically carries the risk of transmitting mad cow disease. Gauthier, however, firmly believes that it is mandatory to have it on hand if you are injecting HA gels. Dissolving filler is considered an "off-label" use for hyaluronidase because it only dissolves HA fillers and has no action on the other fillers. "In 2005, a new human form of hyaluronidase was engineered so it does not carry the risks of an animal-derived product. It is only available in the US."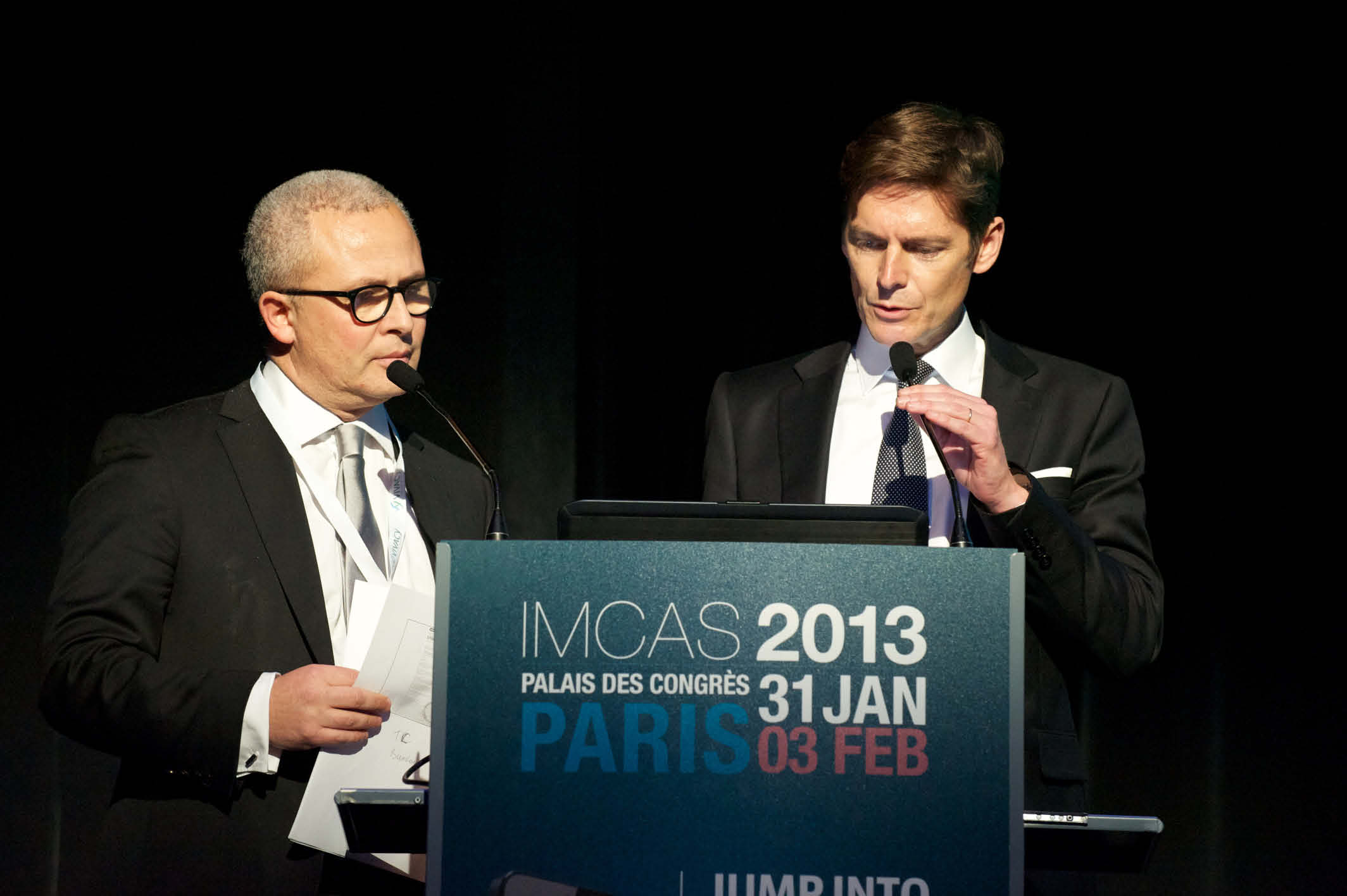 IMCAS Tribune coordinators.
At the Merz Aesthetics booth, for the first time, the Glytone® (Pierre Fabre) family of hyaluronic acid injectable fillers were being presented. There are four variations from Glytone® 1 for mesotherapy, Glytone® 2 for superficial wrinkles, Glytone® 3 for lips, and Glytone® 4 for severe wrinkles and volumizing. Teoxane Laboratoires showcased PureSense Redensity II Eyes, a semi-crosslinked HA with lidocaine for the treatment of under-eye circles, tear troughs, and malar bags with a 12-month duration.
Bayer Healthcare sponsored a well-attended symposium, "ATX-101: A Novel Injectable for the Reduction of Submental Fat," with Ascher; and James McDiarmid, MSc FRCS(Plast) FRCS(Eng), Klaus Hoffmann, MD, Tamara Griffiths, MD, and Berthold Rzany, MD, presented Phase III Trial results of the fat-dissolving injectable drug developed by Kythera Biopharmaceuticals (kytherabiopharma.com).
The new European distributor for Sculptra®, Sinclair Pharma France, presented Danny Vleggaar, MD, and Rebecca Fitzgerald, MD, doing their thing with Sculptra® for 3D facial sculpting. According to Vleggaar, "If you ask your patient if they want immediate results that last 8 to 10 months or gradual results that last 2 or more years, they will choose the latter. HA is immediate, but Sculptra® is gradual."
In the R&D session, one of the most notable entries came from newcomer Eternogen™ (eternogen.com), based in Columbia, Mo. Chief Technology Officer Sheila Grant, PhD, introduced her early data on a collagen-based soft tissue filler enhanced with nanogold particles as the next generation of collagen fillers, currently undergoing animal studies. "We have developed a collagen scaffold material that possesses longevity and biocompatibility, and we are preparing human studies in the near future," Grant says.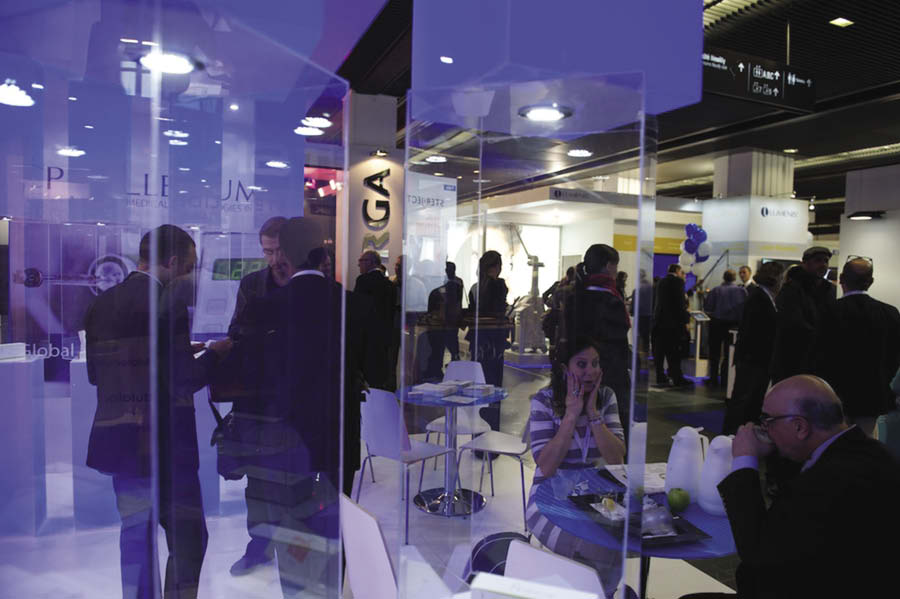 The exhibit hall at IMCAS was bustling.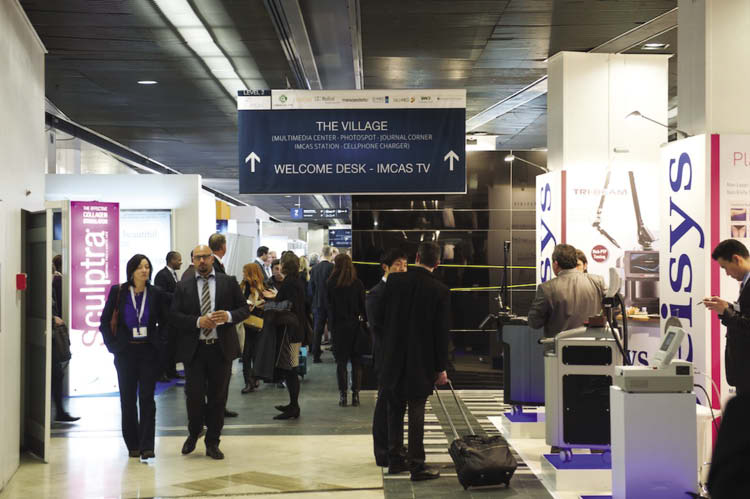 Busy IMCAS exhibit floor.
Dermo-Cosmetics on Display
Marc Toulemonde, Global General Manager of Skinceuticals, provided some interesting statistics for the professional skincare market. The global skincare and sun care market is estimated to be $105.7 billion worldwide, and by 2017, sales of products in physicians' offices will reach $1 billion. His belief is that, "Skincare is crucial to complement aesthetic results. In the US, 88% of physicians dispense cosmeceuticals, 75% have at least one non-medical treatment room, yet only 61% of patients leave their doctor's office after a laser treatment with a recommendation for a long-term skincare regimen."
The über popular French cosmeceutical brand Laboratoires Filorga announced its partnership with MOSTleds to develop LED photobiomodulation for stretch marks, acne, and other skin conditions. President Didier Tabary sees this opportunity as the next frontier. "Home devices are the democratization of aesthetic medicine," Tabary says.
ZO® Skin Health held a workshop with UK Dermatologist Raj Acquilla, MBChB, MRCGP, MBACD, to promote Zein Obagi's new thinking in skin treatment, prevention, and maintenance with topical agents and peels.
Innovations in Plastic Surgery
Among the highlights of the plastic surgery tracks, Olivier Gerbault, MD, a plastic surgeon in Paris, presented on performing rhinoplasty on thick-skinned patients. "With thin-skinned patients, the slightest micron of error will be visible, so we must use very precise techniques to avoid irregularities. Grafts can become more obvious over time. With ethnic noses that have thick skin, the cartilage is weak and there is a lack of support," he says.
Mojallal, a plastic surgeon in Lyon, reviewed the modifications of fat grafting techniques throughout the last century and its use in the buttocks. "Fat grafting is an essential technique in plastic surgery. It has a volumizing effect, plus it has a regenerative effect on tissue."
Kestemont, a facial plastic surgeon in Nice, France, presented a concise overview of the myriad of agents available for mesotherapie for skin boosting, and fat and fillers for volumetric filling. "Volumetry remains the best of all treatments; you can lift the cheeks, marionette folds, and restore facial fullness to areas where it has been lost."
Andrew Jacono, MD, FACS, a facial plastic surgeon in Great Neck, NY, presented on vectors in facelifting, analyzing the angle of maximum rejuvenation in facelift surgery in 150 consecutive patients. He concluded that, "There is a sweet spot to every face where there is maximal redraping and elevation of the cervicomental angle, and it is different on every face. On younger patients, the vector is more vertical, like 70 degrees. Yet with older patients, the angle is more like 50 degrees, and there is a greater need for more posterior hairline incisions."
The aftermath of the PIP crisis in Europe was an important topic this year.
Bruno Alfandari, MD, president of Le Syndicat National Des Chirurgiens Plasticiens (Sncpre.Org) in France, provided an overview of the state of the breast implant market in Europe today. Apparently, 30,000 patients in France, and an estimated 500,000 patients worldwide, have had PIP implants. However, on the upside, 14,000 patients to date have been operated on, and the majority of the implants removed were normal with no serious complications or side effects. Therefore, public outrage and fear has calmed down, and there is less demand among consumers to have their implants removed or exchanged. Other outcomes of the PIP disaster are that there are twice as many factory inspections occurring in the UK and France, and more and better product testing and clinical trials. Plus, the CE Mark has been strengthened, and better labeling and warnings of potential risks have been called for. There was some hope expressed for the future to create an international standard for consistency, but that concept may meet with big hurdles.
Global Trends
At the Industry Tribune, co-coordinators Theirry Matignon and Laurent Brones assessed global market figures and anticipated growth rates. North and South America are expected to grow at the rate of 10%, whereas Asia-Pacific leads the way with a 14% growth rate, and the EU is stuck at around 6% due to the looming debt crisis.
The roster of industry giants participating included Anteis, Skinceuticals, Filorga, Laboratoires Sebbin, and others. Douglas Ingram, president of Allergan EAME, chaired a panel with Shimon Eckhouse, chairman of Syneron-Candela, Philip Burchard, CEO of Merz Pharmaceuticals, and Umberto Antunes, president and CEO of Galderma. There was a lively discussion about the future of EMEA regulations and increasing restrictions on scientific interaction with physicians, which is starting to go the way of the US. Ingram pointed out, "There is a risk of creating an imbalance that does more harm. Industry funds medical education."
Another theme was the shift of power from physician and manufacturers to all about consumers. Ratings and review sites were cited as having a significant impact on consumer attitudes and behavior, even in Europe. Antunes noted that, "The 21st-century consumer is very different. This is a new environment."
Eckhouse shared his wisdom about the device segment. "We used to call it the laser market, but now we call it the aesthetic medical energy-based capital equipment market. We are in a box business that is strongly technology driven, with low barriers to entry, overcapacity, and constant changes."
Emerging Technologies
Every year, there are several new EU launches that cause Americans to turn green with envy. Nonsurgical body shaping with energy-based devices dominated much of the scientific program with new entries in this category from Viora, Fotolux, and others.
The long-awaited toxin-free Iovera technology from Myoscience (myoscience.com), currently approved in Europe and Canada for temporary wrinkle reduction, temporary pain reduction, and treatment of dermatologic conditions, received a wealth of attention. Iovera™ is based on FCT, Focused Cold Therapy™ for cryoneurmodulation. It targets the nerve directly and is being used for treating hyperdynamics of the forehead. Results last 90 to 120 days, and regeneration is at the rate of
1 to 2 mm per day, making this method of denervation both reversible and temporary. According to Milan plastic surgeon Daniel Cassuto, MD, "It is not a total paralysis. At rest, the brow maintains a natural position, and dynamic lines are reduced out to 90 days. The position of eyebrows does not change, as we are treating the whole aesthetic unit." Cassuto indicated that there is a subset of patients who are toxin-averse, and that Iovera may also be an ideal treatment for people with headaches.
Plastic surgeon Haideh Hirmand, MD, from New York City, shared her extensive experience with Ulthera® (ulthera.com), indicating that new studies were under way targeting hyperhidrosis and knees, and highlighting the recent launch of a new transducer offering more versatility. "The best candidates are younger with minimal to moderate aging and good skin tone. Ulthera fills the gap between nonsurgical treatments and surgery," she says. "We are seeing subtle yet real results." Hirmand concluded that the system was not calibrated well for fat reduction.
Dermatologist Klaus Fritz, MD, of Landau, Germany, presented a recent study conducted with the Syneron eTwo (syneron.com) device for treating actinic keratosis, using two to three passes. He applied Jessner's solution to remove dry skin and increase moisturization to improve radiofrequency conduct. "The heating and stimulation improves lower levels of actinic keratosis, and a significant reduction can be achieved with no downtime or wounds," he says. Nashville, Tenn-based dermatologist Michael Gold, MD, announced that the Sublative or eMatrix platform in the eTwo system for acne scarring was pending FDA clearance.
Primcogent Solutions (primcogent.com) launched the Lunula™ Laser manufactured by Erchonia, a low-level laser therapy for onychomycosis. This dual-diode mode increases blood flow to the toes to clear nail fungus and discoloration in two 12-minute treatments. Lunula is marketed exclusively in the EU.
Another new product that caught my eye is the RollerJet from Israel (rollerjetmed.com), a multi-needle syringe for transdermal delivery of serums, peeling agents, or hyaluronic acid. This is a single-patient-use disposable handheld device that punctures the skin while delivering a range of fluids into the dermis. Of a similar vein, Amiea Med Aesthetics (amieamed.com) introduced a selection of three microneedling cartridges designed for use with its Revive-HAP mesotherapy solution that contains hyaluronic acid, peptides, minerals, vitamins, and amino acids. The treatment is touted to improve skin texture by stimulating collagen production, and, in particular, for acne and hypertrophic scar reduction.
Finally, plastic surgeon Thierry Besins, MD, is the medical coordinator of a new interactive medical education website for aesthetic physicians called generation-esthetique.com. Dubbed "The social network and training for professionals and medical aesthetics," the site allows medical aesthetic specialists, including doctors, cosmetic surgeons, dermatologists, maxillofacial surgeons, and ear, nose, and throat doctors, to share their experiences in an online platform via videos and working groups, and to keep up to date with the latest research, launches, and events.
For more information, visit imcas.com.