Dark spots (solar lentigines) add years to one's appearance and are a very common aesthetic concern for patients seeking anti-aging treatment. These dark spots are treated with lasers, but patients with darker skin tones often develop pigmentation from the procedure that may linger for weeks to months. The 730 nm picosecond laser was specifically developed to address this concern.
In this study of 20 subjects with 37 body regions, the 730 nm picosecond laser produced good clearance of solar lentigines on the face and body with rapid healing and without side effects, according to a media release from the American Society for Laser Medicine and Surgery Inc (ASLMS).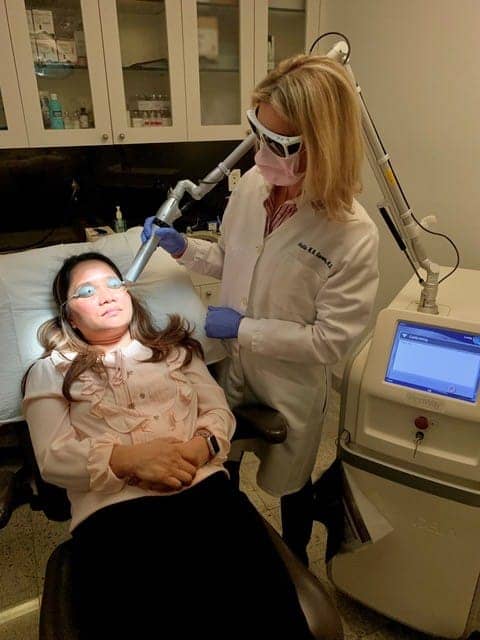 The clinical report, led by Arielle N. B. Kauvar, MD, was published in Lasers in Surgery and Medicine, the official journal of ASLMS, and was selected as the September 2021 Editor's Choice.
"Solar lentigines, dark spots that result from sun exposure, are a common aesthetic concern, but patients with dark skin tones often develop hyperpigmentaion following laser treatment of these lesions," Kauvar explains. "The titanium:sapphire 730 nm picosecond laser provides an optimal combination of wave-length and pulse duration for effective treatment of solar lentigines with minimal risk of hyperpigmentation."
Dr. Arielle Kauvar is the founding director of New York Laser & Skin Care, a private practice specializing in laser surgery, Mohs surgery, cosmetic dermatology and clinical research, and a clinical professor of dermatology at NYU Grossman School of Medicine, where she teaches advanced dermatologic surgery. She is a board-certified dermatologist and a leading authority on laser technology, minimally invasive skin rejuvenation and skin cancer treatment.
Dr. Kauvar has pioneered many laser and device-based treatments for skin disorders and remains actively engaged in the development of new technology and clinical research. Dr. Kauvar is the 2021 recipient of the Leon Goldman memorial Award from the American Society for Laser Medicine and Surgery.
[Source: American Society for Laser Medicine and Surgery Inc]
---
Related Content:
A Black Dermatologist Explains How To Clear Up Those Stubborn Dark Spots
Derm-Approved Ways to Get Rid of Dark Spots on Every Skin Tone