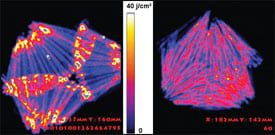 LipoControl is an electronic-mapping device for laser-assisted lipolysis.
Since laser lipolysis arrived on the US scene around 3 years ago, the procedure has been gaining popularity at a rate that Pascall Servell, clinical director for Osyris Medical USA, Dallas, describes as "fast and furious."
With the technique being so young, products have been, in some cases, brought to market "blind," making it difficult for physicians to consistently predict what the clinical outcomes will be, Servell explains. "Right now, although you can perform laser lipolysis very safely, you don't quite know what your end point is exactly. You don't know how you are delivering your energy—how uniformly it is being delivered to tissue—so you may have areas that are treated appropriately, areas that are overtreated, and other areas that may be undertreated."
However, a new solution from the company, which is an extension of the Lille, France-based manufacturer, looks to change all that.
LipoControl is what the firm is calling a breakthrough electronic-mapping device for laser-assisted lipolysis that is designed to deliver safer treatments. Currently pending FDA approval, the product will be used with the company's laser-assisted lipolysis unit Lipotherme, a minimally invasive procedure that employs a laser to break down and remove unwanted fat in targeted body zones. The advanced 980-nm continuous-wave diode laser can be adjusted from 1 watt to 25 watts of power.
FIRST LOOK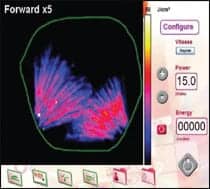 The LipoControl software's real-time display.
Neil Sadick, MD, FAAD, FAACS, FACP, FACPh, will be the first American dermatologist to use LipoControl and expects to begin FDA studies for the LipoControl within the next month. In the meantime, in his Manhattan office, Sadick is becoming acquainted with Lipotherme, a technology that has already seen much success abroad.
LipoControl's computer monitoring system offers something that other lipolysis vendors cannot, Sadick says.
"Basically, it's giving you two safety mechanisms," he says. "First, it allows for uniformity of the energy being delivered to a given area to where the laser fiber is being utilized. It also gives you an automated shut-off system, where it increases or decreases power based on how fast or slow you're moving the cannula."
With LipoControl, each stroke of the cannula appears on a screen in color, which is used to ensure that the heat level is applied accurately and efficiently. If the physician stops moving the cannula, the heated tip automatically shuts off—a mechanism intended to reduce risk.
Describing the features the company included in its design of Lipotherme and LipoControl, Servell notes that with laser lipolysis, clinicians can achieve a more even surface, avoiding the grooves that tend to emerge with traditional liposuction. As a result, physicians reduce the amount of necessary repeat procedures. Moreover, heating of the skin—a secondary effect of laser lipolysis—initiates an inflammatory reaction that leads to new collagen formation.
"Because we are heating up the skin from underneath, we don't have to worry about things like your melanin barrier, which tends to absorb a lot of energy," Servell adds. "We can be a lot more aggressive with the skin, while at the same time being a lot safer to the skin."
Major benefits include skin contraction "that is extremely significant compared to anything that has ever been done before," Servell continues. Lipotherme has the ability to perform vein removal for varicose veins and blue leg veins. Furthermore, LipoControl is said to produce less bruising and swelling, permitting surgeons to branch out to more delicate areas of the face and body.
Early results of a clinical trial currently being performed in Europe show that the system reduces procedural time by as much as 25%, he continues, adding that the technology also preserves the integrity of the fibers, making them more durable.
Although laser-assisted lipolysis is cutting-edge technology, Servell emphasizes that it is not limited just to the experts in the field. On the contrary, Lipotherme and LipoControl are excellent training tools for nonspecialists, he says.
"At one end of the spectrum, it allows the highly skilled physicians, such as dermatologists and plastic surgeons, who want to push the envelope, to actually do so," Servell says. "At the other end of the spectrum, interestingly enough, it makes the job of the physician who wants to perform laser lipolysis for the first time a lot easier."
FDA approval of LipoControl is expected sometime this spring.