The "old way" of thinking among aesthetic surgeons who want to grow their practices: become involved in the community.
The new way of thinking: become a community—specifically, an online community where physician and patient can interact with one another via e-mail, texting, and the sharing of audio and video.
David L. Hicks, MD, is part of that revolution. The Oakland, Calif-based surgeon represents the next generation of practitioner—wired, plugged in, and trained in many of the latest surgical techniques but tutored in the methods of the older generation.
Hicks works out of a two-story, 3,000-square-foot building that includes a suite of operating rooms certified by the American Association for Accreditation of Ambulatory Surgery Facilities. "My office is upstairs; the surgeries take place downstairs," he says.
Hicks subleases both his office space and his access rights to the surgery center. Directly across the street are the surgery rooms of the Alta Bates Summit Medical Center, which he uses in special circumstances.
His specialties include aesthetic and reconstructive plastic surgery of the face, ears, and neck, as well as hair restoration—hair transplants, hairline and forehead lowering, and Juri hair flap procedures, in particular.
A desire for better clinical results helped Hicks decide to nest his practice above a surgery center and a few yards from a hospital.
That same desire also gave him the necessary justification for investing in high-tech strategies and tools.
"If the product you're offering is less than excellent, nothing else will matter, and that's why I believe it's so important to be using 21st-century ideas and equipment," he says.
Technology can also help a practice run more efficiently—the ultimate goal is increased customer satisfaction.
Who is more inclined to adopt high-tech approaches to practice: the established plastic surgeon who has the money and can afford to make the investment, or the younger physician who is acquainted with the technology in all its forms but who may not have the capital to acquire the systems and products he wants?
"High tech is what younger doctors have grown up with," he says. "For us, it's the starting point, not something we have to step up to."
HOPPING ABOARD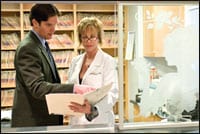 Hicks works out of a two-story, 3,000-square-foot building in Oakland, Calif, which includes a suite of operating rooms certified by the American Association for Accreditation of Ambulatory Surgery Facilities.
Although lack of money can be a barrier to investing in high-tech solutions, there are ways to get around that, "and many young practitioners are taking advantage of the opportunities," Hicks says. Prior to attending medical school, Hicks worked on Wall Street at a pair of investment banking firms.
"Take lasers, for example," he explains. "They cost in the range of $120,000. I have other, more pressing uses for that kind of capital, so I can't right now afford to outright buy a laser. But, if I wanted, I could still acquire that equipment by renting or leasing at a very reasonable monthly rate that would be covered by my fee for the procedure."
Alas, it's not just the young physicians who balk at investing big dollars in order to acquire useful tools. Many older physicians also raise objections, notably those nearing retirement. "They're reluctant to commit funds to expensive new equipment that may not offer a rapid enough recapture of the investment," Hicks says.
Other aesthetic surgeons—the ones in midcareer with ample capital for investing in high-tech equipment—may hesitate to join the revolution because they do not quite see the point.
"They have strategies, systems, and procedures that they've been using for a long time and are comfortable with," Hicks says. "In fairness, though, it needs to be said that many older doctors have readily embraced high-tech in their practices. They recognized this as something they could benefit from. They got on board with it. And they're happy they did."
KEEPING IN TOUCH
By his own definition, Hicks does not go in for marketing tactics that involve sizzle and flash. "I prefer straightforward communication, which is what I find most consumers prefer, as well," he says.
Although he seeks new ways to interact with patients and prospects, Hicks does not want to be accessible 24/7. His solution is to encourage communication by e-mail or texting. The latter is supported by the Apple iPhone he carries with him.
PRACTICE AT A GLANCE
---
Name: David L. Hicks, MD Location: Oakland, Calif Specialty: Reconstructive/aesthetic, face-neck-ear-hair Years in practice: 4 Days worked per week: 5 Number of employees in practice: 6 Office square footage: 3,000
"In addition to letting me keep in touch, I also use my iPhone to take and display really good photos of my clinical work," Hicks mentions. "That way, no matter where I am when I'm talking to someone about plastic surgery, I can support my points with photos. I just pull the iPhone from my pocket and tell the person I'm meeting with, 'Here, let me show you these pictures.' "
If Hicks is conversing with a patient by phone and that individual happens to be speaking on an iPhone or even a cell phone with video capability, Hicks can click a few buttons and quickly transmit the images to the person on the receiving end.
As fine as the iPhone is for sharing images, it cannot hold a candle to computer imaging, a high-tech tool that Hicks finds helpful for planning certain procedures.
"I take pictures of the patients with a professional-grade digital camera, upload them to my computer, and then project how the patient might look after completion of the contemplated plastic surgery procedure," he says, adding that the photo-editing system he uses is Mirror v7 (from Canfield Imaging Systems, Fairfield, NJ).
"This is one of the few packages designed for plastic surgeons; I find it very easy to use."
One of the easiest ways a practitioner can join in a small part of the digital-media revolution—in a useful way that maintains contact with some patients—is to begin writing an Internet blog.
"A blog is an easily updated journal that you write and post as part of your Web site or as a stand-alone page," Hicks says. "There are a lot of reasons for plastic surgeons to have a blog, but one of the most important is that it's a great way to put your treatment philosophies and expertise out there in front of patients."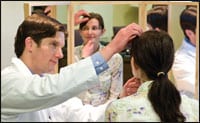 A desire for better clinical results helped Hicks decide to nest his practice above a surgery center and a few yards from a hospital.
According to Hicks, blogs are valuable because they allow online visitors to post messages of their own, either in the form of comments that may initiate a community discussion or as responses to earlier posts, both of which help attract readers to the blog and, most importantly, its host Web site.
Moreover, having a blog improves the chances that search engines, such as Google, will include your practice at or near the top of the list of relevant sites.
"If a Web site has lots of activity, it [becomes] more visible to search engines. An easy way to increase your Web site's activity to that level is to write a blog and update it several times a week." Hicks suggests.
THE WORDS COME EASY
Still, there are risks to blogging. One is the matter of content control. "One way a blog can be set up is to allow readers to post comments at will—and unchecked," Hicks notes. "What sometimes happens is readers then become argumentative with one another."
These tiffs can easily lapse into bouts of name-calling and invective, which must be monitored.
"You also can have situations where a reader who is unhappy with you posts a scathing attack against you, calling you the worst doctor ever," he says.
The solution, Hicks says, is to configure your blog so that readers' posts are filtered through your eyes first, or those of an assigned employee serving as moderator.
Another drawback is time required to keep a blog updated with fresh material, which is important to keep people coming back to your practice online.
"The nice thing about blogging is that the posts don't have to be lengthy," Hicks says. "My average post is about 300 words, and that takes me anywhere from a half-hour to an hour to write. You can knock a post out your lunch break, at night, or whenever you've got some idle time."
Much of what he writes in the blog, in effect, answers questions his patients have asked during face-to-face consultations. These answers can benefit a wider audience looking for information on the Internet, he believes.
"Just the other day, I shared insights on my blog about ArteFill, a permanent filler I really like, to help readers better understand why the product deserves consideration," he says.
Blog entries of that sort are valuable in that they help position the physician as a trusted figure or a thought leader to whom consumers seeking knowledge would turn for credible insights. And, in marketing, credibility is everything.
DIRECTOR'S CUT
Recently, Hicks upgraded his blog to include video—in Internet parlance, this is known as video blogging or "vlogging."
"Video blogging provides a much more personal experience for patients," he says. "I've only done a couple of these so far. One is an introduction to my practice. The other is about nasal analysis."
See also "Get Engaged!" by Cheryl Whitman, in the June 2007 issue of PSP.
Hicks shoots these "vlogs" with the aid of a ordinary camcorder mounted on a tripod. "I look into the camera and talk," he says. "I then refine it on my computer using a basic video editing program. It would be boring to see several minutes of a talking head, so I jazz up the presentation by inserting photos to illustrate what I'm explaining.
"A nice thing about video blogs is that they don't have to be slick, expensive-looking productions made by professionals. Having the feel of being homemade actually is an advantage in the eyes of the people who view them. As for me, I want my video blogs to appear as professional as possible."
Vlogging's downside is that it takes significantly more time than text blogging. "Right now it takes me 2 to 3 hours to create one post," Hicks explains. "I expect as I become more proficient at it that the amount of time spent in production and postproduction will decrease considerably."
A year from now, Hicks' vlog entries may still feel homemade, but the images themselves will be a lot sharper—he plans to replace his camcorder with a high-definition video camera.
David Hicks and His Hot Licks
As the cool, Internet-savvy crowd might say, the high-tech practice of David L. Hicks, MD, is one that rocks.
The same can be said of Hicks, who is an avid guitarist. While in medical school, he played in a band that toured clubs, bars, theaters, and small music halls around the western United States.
"Our dream was to land a recording contract," he remembers. "It just never materialized. We released a CD of our own, and the biggest crowd we ever played in front of was maybe about a thousand people. But the entire time we were typical struggling musicians. Fortunately, I never saw it as a legitimate career for myself. It was just something fun I did on the weekends."
Hicks, whose musical idol is Neil Young, says his band was akin to other early 1990s alternative rock groups, such as Toad the Wet Sprocket and Bighead Todd and the Monsters. "We did a lot of heavy-rhythm, open-jamming work."
Hicks strummed his first set of guitar strings in elementary school. "I started with acoustic guitar, then advanced to bass guitar," he says.
Although his touring days are behind him, Hicks still likes to get in his guitar licks. "My main interest right now is playing blues guitar." He is even giving serious thought to organizing a new band, one that would play locally, in the San Francisco Bay Area.
Patients who know of his fondness for guitar are surprised to find that the only instruments in his office are scalpels and other surgical tools. "If I kept a guitar around here, I'd have too hard a time putting it down. I'd never get any work done," he admits.
Beyond music, Hicks also enjoys waterskiing and snow skiing. "I'm a fairly athletic individual," he says. "I like staying in shape."
He needs to be physically fit in order to keep up with Carson, his active 4-year-old son. Hicks is a proud papa and husband (to his physician's assistant spouse, Elizabeth).
"Because she works with patients, Elizabeth is very understanding of the challenges I face in my own practice. She's great to bounce ideas off of," he says.
Elizabeth is from California's East Bay area, which is how Hicks, who was raised in Connecticut, came to choose Oakland as the place to hang his shingle.
"She was with me during my medical schooling at Columbia University in New York, then followed me to the University of California at San Diego for my residency, and Beverly Hills at the Lasky Clinic for my plastic surgery fellowship training," he says. "Elizabeth told me that she hoped I'd consider choosing to start practice in the Bay Area, which she missed. I thought it was actually a good idea, since I'd spent a few years in San Francisco before starting medical school and was already familiar with the region."
Hicks came to San Francisco after working 4 years as an analyst at Wall Street investment banking firms. However, it did not take long for him to realize that crunching numbers all day was not a particularly satisfying way to make a living.
In San Francisco, aided by a degree in biology earned at Harvard College before his Wall Street stint, Hicks landed a job at California Pacific Medical Center as an operating room technician.
"Among other things, my role was to help the perfusionists on cardiac bypass cases and to help harvest spilled blood during orthopedic surgeries," he says. "It was very exciting and satisfying."
The experience confirmed for Hicks that he needed to fulfill his boyhood dream of a career in medicine. "I was around 10 years old when I started thinking about growing up to be a plastic surgeon," he says. "I'm not sure why that was, but I suspect it had something to do with my personality makeup and my interest in solving puzzles, working with shapes."
It might have been connected to a face-first fall he took off his bicycle at age 7. "I had minor lacerations of my lip, which required sutures," he says. "The experience was all about fixing up my injured face. I think that instilled in me a subconscious desire to want to help other people the same way."
—RS
---
Rich Smith is a contributing writer to PSP. He can be reached at [email protected].