RealSelf has released new data revealing that Botox and breast augmentation are the most-researched cosmetic treatments of 2019.
The new report is based on traffic patterns from consumers in the United States who researched treatments on RealSelf.com between January 1, 2019, and October 31, 2019.
Botox Retains Top Spot, Microneedling Jumps to No. 6
For the third consecutive year, Botox takes the top spot on the list of most-researched nonsurgical treatments. Notable changes include an uptick in interest in microneedling. Microneedling jumped two spots on the list, up from No 8 in 2018 to No 6 in 2019.
In 2017, the treatment ranked No 11 on the list. Microblading, a type of semipermanent tattoo that creates the look of fuller eyebrows, continues to drop in ranking, moving from the No 9 spot in 2017 to No 12 in 2018 and No 19 in 2019.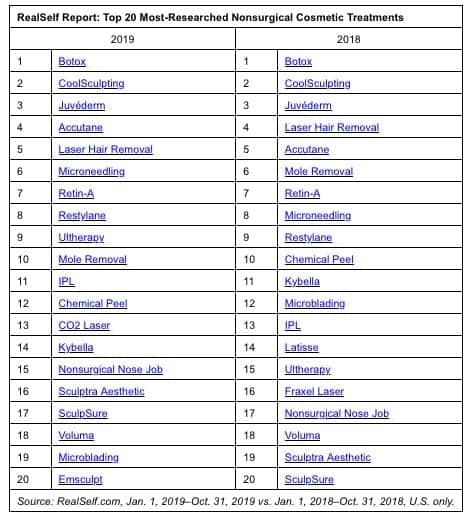 Breast Augmentation Holds No 1 Spot, Breast Implant Removal Climbs Five Spots
Of the top 20 most-researched surgical treatments in 2019, nearly half (nine) involve changing the breasts, from augmentation to lifts to reductions. Breast augmentation remains in the top spot in 2019, while breast implant removal jumped up five spots, from No 16 in 2018 to No 11 in 2019.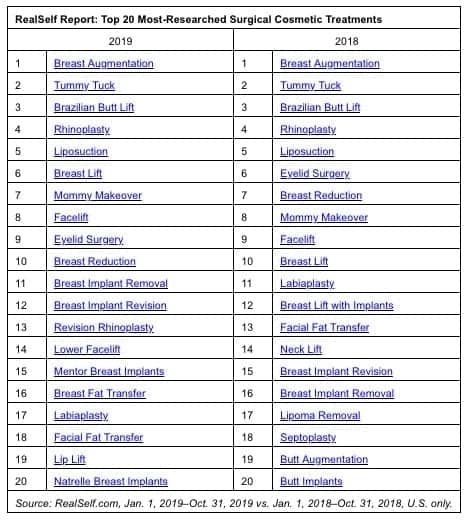 New additions to the top 20 ranking in 2019 include lower facelift (No 14), breast fat transfer (No 16) and lip lift at No 19.
For more information, visit RealSelf.
[Source(s): RealSelf, PR Newswire]