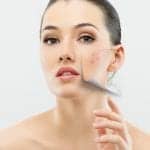 Optical microangiography (OMAG) may detect changes in microvasculature during acne lesion progress and help introduce a microvasculature-based biomarker in evaluating the treatment and grading of acne, new research suggests.
The study was selected as the Editor's Choice in the March 2015 issue of Lasers in Surgery and Medicine.
"Our unique noninvasive optical microangiography technique presents an objective way of assessing acne vulgaris development within human skin. We expect this technique to enable future investigations that will eventually lead to a better patient care," says study author Utku Baran, MSc, a PhD student in the Department of Electrical Engineering at University of Washington, Seattle, in a news release.
What is OMAG?
OMAG images the volumetric microcirculations within tissue beds up to 2 mm beneath the surface in vivo. The imaging contrast of blood is based on endogenous light scattering from moving blood cells within biological tissue. No exogenous contrast agents are necessary for OMAG imaging.
"The authors demonstrated that OMAG is capable of visualizing and quantifying the three-dimensional structural and microvascular features of human skin in vivo during acne lesion initiation and scar development," adds J. Stuart Nelson, MD, PhD, editor in chief of the Lasers in Surgery and Medicine.