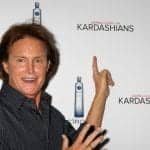 If enough people say it, does that make it true?
That's the question on many Keeping Up with the Kardashians' fans and tabloid connoisseurs' minds these days. It seems that the rumors are correct and that former Olympic Gold Medalist Bruce Jenner, the currently estranged husband of Kardashian clan momager Kris Jenner, is indeed transitioning to life as a woman.
"He is finally happy, and his family is accepting of what he's doing. He's in such a great space. That's why it's the perfect time to do something like this," an unnamed source tells People magazine. Another source tells People that Jenner will film a docuseries this year. "It will air when he is ready to be open about his transition. But he's acting more and more confident and seems very happy."
When asked about Jenner's ever-changing appearance on ET, stepdaughter Kim Kardashian said, "I think everyone goes through things in life, and I think that story and what Bruce is going through, I think he'll share whenever the time is right." The rest of the family is reportedly supporting Jenner.
The rumors have been rampant since Jenner was spotted with manicured nails, long hair, and evidence of gynecomastia. Jenner also made headlines for allegedly undergoing a laryngeal shave, and some online sources reported that (s)he is feeling out some new names for "her" true self.
But what was once solely fodder for tabloids has now hit the mainstream media.
"Hopefully, Bruce's public journey will serve as a platform to help enlighten and educate people about the experience of being transgender and the importance of being true to yourself." —David Baker-Hargrove, PhD, LMHC
"Some people like to transition openly and some do it very quietly," says Jeffrey Spiegel, MD, chief of the Division of Facial Plastic and ?Reconstructive Surgery at Boston University and an expert in facial feminization and masculinization procedures. "There is no right way to do it, and the hope is that these individuals are able to come to a place where their presented self matches their internal sense of self."
There is no right time or age to transition, either, he says. "I see people aged 17 to 80. The right time to do it is when it's right for you," he says. "These individuals often push down their sense of self until they can't do it any longer."
If Jenner is truly transitioning, the next steps can vary based on her goals. "If the goal is to present as a female, surgery can be helpful, but if the goal is to just say 'I am a woman. Take me as I am,'  he doesn't have to do anything further."
While no precise figures exist, the National Center for Transgender Equality estimates that between ¼% and 1% of the population are transsexual. "Transgender" is the term used for people whose gender identity or expression differs from their assigned sex at birth. The only recognized and effective treatment is gender reassignment surgery, including facial changes.
"The reports say Bruce is doing this slowly, which seems to be typical when people come out and transition later in life. So much time has been spent investing energy into making the gender assigned at birth work, it is difficult to just reverse all that and 'be yourself,'" explains David Baker-Hargrove, PhD, LMHC, a psychotherapist in Orlando, Fla, who specializes in transgender health issues.
"It may come as a shock to some people, as it is typical to think, 'Why now?' Did this just come about all of a sudden? or does someone just suddenly become transgender?," he says. "Very often, those individuals have been surviving a serious internal struggle that has been going on for years, and in most cases, their entire lives. Hopefully, Bruce's public journey will serve as a platform to help enlighten and educate people about the experience of being transgender and the importance of being true to yourself."