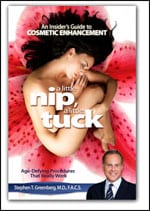 Publisher: MdPublish.com
Publish Date: May 31, 2007
ISBN-10: 0-9748997-7-1
ISBN-13: 978-0-9748997-7-0
Format: Paperback, 185 pages
Price: $16.95
Patients seek plastic surgery to improve their self-esteem, to change a perceived flaw, or to reverse the effects of aging and massive weight loss. Regardless of their motivation, all patients share the desire for a safe and predictable result. It is therefore important for plastic surgeons to keep up-to-date with the latest aesthetic surgery techniques and procedures to give patients their desired results.
In his book, A Little Nip, a Little Tuck: An Insider's Guide to Cosmetic Enhancement, Stephen T. Greenberg, MD, FACS, an aesthetic surgeon in Long Island and a radio show host in New York City, separates fact from fiction about aesthetic surgery, dispels myths, and encourages patients to make the safest choices for an enduring result.
"It doesn't take a million bucks or a Park Avenue address to get the kind of fabulous looks that great cosmetic surgery can offer," Greenberg says. "A Little Nip, A Little Tuck is the beauty bible for the discriminating woman or man who will not settle for less than the best, when it comes to image enhancement."
In his book, Greenberg coaches patients on how to choose "Dr Right" and how to identify his or her credentials. He offers step-by-step instructions on preparing for surgery or a treatment, and provides information on anesthesia, recovery, and what types of scars to expect postsurgery.
Other topics include the art of rhinoplasty and creating the perfect profile, laser procedures, and information about the different types of implants on the market and how they are used.
Anecdotes from patients about their surgical experiences and colorful before- and-after images in the book give readers a more intimate idea of what to expect from their own procedures.
Greenberg also offers quick tips on how patients can look their best. Topics include how to smoothen lines and wrinkles, how to acquire cleavage, and how to polish off the perfect look with a set of pearly white teeth.