By Louise Gagnon
Shaping of the tip of the nose is one of the greatest challenges in both primary and revision rhinoplasty,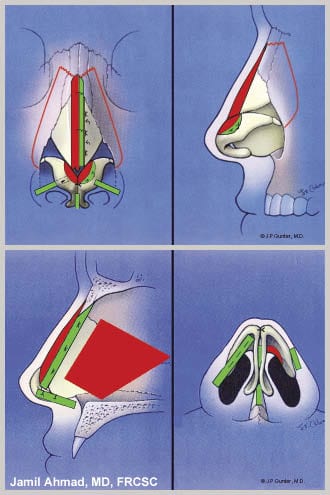 says Ashkan Ghavami, MD, a plastic surgeon in Beverly Hills, Calif, and a voluntary assistant clinical professor at the David Geffen School of Medicine at the University of California, Los Angeles.
"The first thing I think about is how I will approach the tip," Ghavami says at the 43rd Annual Aesthetic Plastic Surgery Symposium in Toronto, adding that there isn't really an objective measure of what the tip of the nose should look like.
"The more you can do during surgery to incrementally, systematically, and gently handle the [osseous framework], the more predictable the rhinoplasty will be," Ghavami says. "There are so many nuances to how these [nasal tips] heal over time."
A thorough preoperative consultation is necessary to discuss patient expectations in regard to the shaping of the tip of the nose, he explains.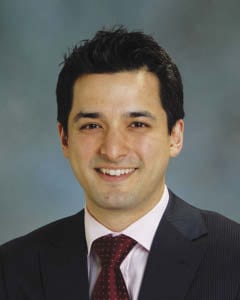 Ashkan Ghavami, MD
"Patient education is the key," Ghavami says. This includes a discussion of patient expectations to make sure that they are realistic and can be achieved with the surgery. "You always have to let them know that there are limitations."
Debulking soft tissue can be performed in a selective manner, with more aggressive nasal tip modification reserved for specific cases, he says.
"I am conservative and do not debulk the entire tip," Ghavami says. "If the patient is very thick-skinned, like an African-American patient, for example, I will debulk the tip because I want to decrease the dead space (in the supratip region)."
Form Plus Function in Rhinoplasty
Visit the University of Toronto Aesthetic Plastic Surgery Symposium and Breast Symposium website for the latest information about next year's Toronto Breast Symposium and the Aesthetic Plastic Surgery Symposium. www.torontoaestheticmeeting.ca
Airway function is another important consideration in rhinoplasty, says Jamil Ahmad, MD, FRCSC, a plastic surgeon in Mississauga, Ontario, Canada, and a lecturer in the Division of Plastic and Reconstructive Surgery, Department of Surgery, Faculty of Medicine, University of Toronto.
"If you don't treat the airway, it limits your patient demographic," Ahmad says. "It's not sufficient to make external changes with rhinoplasty and refer to someone else to perform airway surgery."
Fully one-third of adults may have some form of nasal airway obstruction, and that may very well be an underestimate. "The majority of patients say they don't have problems breathing through the nose, but we know a lot of the diagnosis is intraoperative," he says.
Patients who have issues breathing through their noses may report a history of whistling sounds when they breathe, crusting inside the nostrils, or bleeding from the nostrils, Ahmad explains.
Performing work inside the nasal cavity is tremendously challenging from a technical point of view. Ahmad sometimes takes an open approach that provides direct visualization and preserves structural support when faced with a deviated septum that needs to be repositioned back to the midline.
"I don't think you can do better septal work than when you have the nose open," he says. "Cartilage preservation is paramount in rhinoplasty these days. It will likely be at some point in our patients' lives that a significant amount (of them) will be seen again for some revision."
Rhinoplasty surgery is not without complications, and familiarity with anatomic structures such as the nasal septum, the internal nasal valve, and the turbinates is vital to avoiding complications, Ahmad says. "You don't want a cerebrospinal fluid leak or perforation because of poor visualization or poor technique," he says. "You have to be very conscious and respectful of the anatomy. Only do what is necessary."
Louise Gagnon is a Canadian journalist, writer, and editor. Her career began at The Medical Post. She routinely covers dermatology, ophthalmology, cardiology, and neurology. Gagnon can be reached at

[email protected]

.