The Fraxel re:store and re:pair lasers are both safe and effective devices that have provided me with a range of treatment options that have enhanced my New York City-based aesthetic surgery practice.
In particular, the Fraxel re:store laser has become an integral part of the skin-rejuvenation component of my practice.
Surgery is very effective at improving facial contours and excising redundant, lax skin, but it does not change skin quality. In addition to a comprehensive skin care program targeting aging skin—including antioxidants, retinoids, hydrators, sunscreens, and vitamin supplements—I have incorporated laser treatments within my practice for more than 12 years and began using the Fraxel laser more than 3 years ago.
Initially, the undesirable aspects of my experience with the CO2 and Erbium laser were the prolonged recovery phase—which included 1 week of skin healing followed by several months of redness—and the associated downtime.
These drawbacks were not compatible with the market-driven desire of patients for rapid results and minimal time away from work or social activities.
The long-term effects of altered pigmentation and the potential for hypertrophic scarring also limited the appeal of earlier generations of cosmetically oriented lasers to the broader market.
Technology advancements were a response to these market-related issues, resulting in the development of fractional photothermolysis in 2001 by R. Rox Anderson. MD, and Dieter Manstein, MD, of Harvard Wellman Laboratories, in association with G. Scott Herron, MD, PhD, and Len DeBenedictis.
Fractional photothermolysis enables laser energy to be delivered in a manner that creates microscopic columns of injury in the skin, known as microscopic treatment zones (MTZ), due to the coagulation effect of the laser. These zones, analogous to pixels, maintain an intact stratum corneum and are interspersed with surrounding, untreated skin, allowing for the preservation of melanocytes and stem cells in the papillary dermis. This results in a rapid healing of the laser-treated sites.
Figure 1. A 55-year-old female patient prior to treatment (left) and 18 months after a series of four Fraxel re:store treatments (right).
The nonablative Fraxel laser was introduced in 2004 with the promise of efficacy, safety, and minimal downtime. The mechanism of energy delivery to the skin makes it safe to use on Fitzpatrick skin types I to VI.
The initial Fraxel unit was known as the 750 and required the application of a blue dye to the patient's skin to activate the product's tracking functions, called Intelligent Optical Tracking. This continuous-motion delivery system adjusts to hand speed and enables an even distribution of laser pulses while reducing heat in surrounding tissue.
The maintenance of optimal spacing and spot size for each treatment level, with preprogrammed treatment parameters, was designed to ensure a consistently safe and uniform treatment with the desired level of laser energy penetration and minimization of bulk heating in surrounding tissue. This aspect of the technology differentiates Fraxel systems from competitors and is especially important in decreasing the risk of postinflammatory hyperpigmentation.
The next generation of Fraxel laser, known as the SR 1500 and later called the Fraxel re:store, was an upgrade to the above-mentioned technology and came with a new roller tip and the elimination of the blue dye requirement.
The 1,550-nm wavelength laser can deliver pulse energy of up to 70 mj per MTZ. The desired depth of penetration (up to 1.4 mm) and the number of MTZs can be customized to each patient by adjusting the system's energy level and density treatment settings.
THE PATIENT EXPERIENCE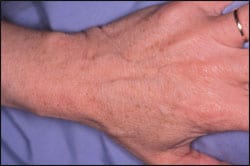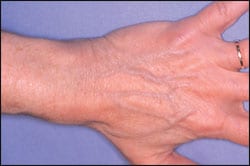 Figure 2. The hands of a 59-year-old female before treatment (top) and 2 months following a series of two laser treatments using the Fraxel re:store laser system (bottom).
The typical treatment will utilize a density setting of 20% to 25%, which is generally well tolerated by patients with the pretreatment use of a topical anesthetic applied for up to 1 hour.
Administering a stream of cold air during the treatment via the Zimmer Cryo 6 cooling system significantly reduces patient discomfort. An oral sedative, such as diazepam, is occasionally added in selected patients.
The average patient experiences 2 or 3 days of redness and swelling, but feels no discomfort following a sensation akin to sunburn for the first hour. There is no visible wound healing, but some dryness and flaking of the skin will occur during the first week. Concealer can be used to camouflage any redness.
In addition, I have incorporated the use of the GentleWaves LED photomodulator as a pretreatment and post-treatment modality to decrease the intensity and duration of redness. I recommend using SkinCeuticals Epidermal Repair, formulated from beta glucan and centella asiatica, as a frequent topical application following laser treatment to help diminish redness and to soothe the skin.
During and after a treatment series, the patient must be told that the use of sun protection is essential in order to avoid the potential onset of hyperpigmentation or the recurrence of dyschromia.
The re:store laser can be safely used to treat the face, neck, chest, and hands. A treatment regimen consists of three to five sessions spaced at 1-month intervals (or longer).
I tell patients that the response of their skin cannot be entirely predicted, and that additional regional treatment may be needed after the completion of the initially planned series to achieve the desired outcome in skin with more advanced wrinkling and pigmentation problems.
Wrinkles and textural changes are treated by the induction of collagen remodeling, resulting in increased skin thickness and collagen quality within the dermis. Dyschromia and melasma are improved, pores are diminished, and skin tone and firmness are enhanced. Acne scars, scars from previous surgery, as well as burns can also be effectively treated with this technology.
Figure 3. This 74-year-old patient is shown preoperative (left) and 3 years after a facelift and 2 years after a series of four re:store treatments (right).
The beneficial changes produced by the Fraxel laser are known to continue for a period of months after each treatment. Clinically, I have seen improvement occurring in skin areas treated for up to 12 months following the final treatment session.
This long-term time horizon for the treatment outcome mandates a detailed pretreatment discussion with the patient so that they fully understand the expected evolution of the results.
THE THREE PATIENT GROUPS
I have found that the patients who are treated with the re:store laser can be stratified into three groups:
Laser and injectables—This group of patients has two components: the 20- to 45-year-old patients in whom treatment is primarily for acne scarring, melasma, and premature aging from extensive sun exposure, with an emphasis on the periorbital region.
The second group of patients, age 65 and older, are those who do not want to consider surgery and are pursuing treatment via Botox Cosmetic and dermal fillers in addition to the Fraxel laser. These patients receive treatment in multiple areas via the re:store laser in addition to the face, including the neck and chest. Dramatic results can be achieved in this group in the hands when a dermal filler is used to restore volume and hide visible tendons and veins. The re:store laser is then used to treat dyschromia and improve skin texture.
Presurgical laser—This group of patients in the 45- to 55-year-old age range are planning on surgery but desire interim steps to improve their appearance. The re:store laser is used to improve skin quality in anticipation of future surgery. Although I perform Fraxel laser treatments preceding facial surgery in some patients, I generally encourage them to postpone their laser treatment until after surgery so that I can treat any resultant surgical scars concurrently.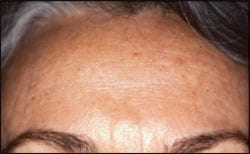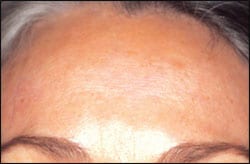 Figure 4. Female patient (mid-70s) shown both preoperative (top) and 3 years after an endoscopic browlift and 2 years after a four-series set of treatments using the Fraxel system (bottom).
Postsurgical laser—This group of patients desires a qualitative improvement in their skin to match the facial and eyelid contour benefits they have achieved following facelift and blepharoplasty surgery.
The rough, sun-damaged skin texture and dyschromia that may detract from the outcome of a facelift can be improved with a series of Fraxel laser treatments following a postsurgical 3-month interval for healing.
The perioral rhytids that persist following any facelift procedure can be addressed with the re:store laser. However, peak energy settings and additional treatment sessions, beyond the usual series of four, are often required to achieve clinically noticeable results.
THE ABLATIVE PLATFORM
The Fraxel re:pair laser, clinically introduced in 2008, is an ablative, 10,600-nm wavelength fractional CO2 laser that provides a deeper dermal remodeling of the skin in one or two treatment sessions.
Tissue is ablated deep within the dermis via MTZs, with a surrounding area of thermally coagulated tissue that is 50 to 70 µm thick. This layer enables tissue contraction and rapid healing of the zone of ablated tissue.
Unlike the re:store laser, the re:pair removes all layers of skin within the treated zone. Its use is recommended in Fitzpatrick skin types I to III. Treatment of more severe facial wrinkles is possible with less risk and recovery time than traditional CO2 lasers and a depth of penetration up to 1.6 mm.
In my experience, the use of nerve blocks or intravenous sedation is usually required when treating patients with the re:pair laser. The downtime needed for healing is approximately 5 days. Redness lasts for several weeks depending on the treatment level selected.
The re:pair laser can achieve significant improvement in the skin, with more wrinkle effacement than can be achieved with the re:store, in those patients who are able to tolerate more downtime. It is particularly effective in improving the perioral and periorbital regions, which may otherwise require a more prolonged treatment course with the re:store laser before it can yield satisfactory results.
The patient must be made to fully understand the duration of the healing phase, the wound care involved, and the residual redness that can be expected so that they do not commit to a procedure that is not compatible with their lifestyle.
Botox Cosmetic can be used in combination with either Fraxel laser system to enhance the outcome. It will prolong the duration of the results of the laser treatment by blocking the contribution of facial muscle contraction to the recurrence of facial wrinkles. In some cases, I recommend to patients that they be pretreated with Botox 2 weeks prior to the beginning of the laser series in order to gain maximum benefit from the Fraxel laser treatments.
Bryan G. Forley, MD, FACS, is a board-certified aesthetic plastic surgeon who specializes in surgery of the face, breasts, and body as well as in injectable agents. He is in private practice in New York City and runs a JCAHO-accredited operating suite. He can be reached at (212) 861-3757 or www.drforley.com.